First Wasteland 2 screenshot revealed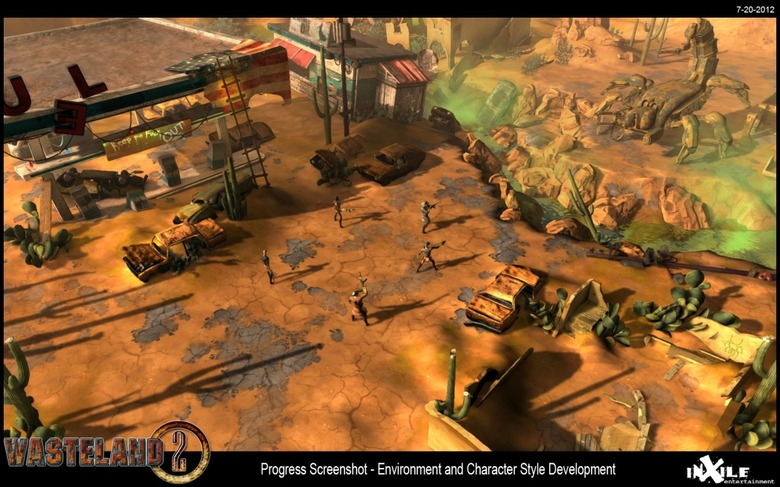 It's been a while since we've heard from Wasteland 2 and the folks at inXile. Ever since the game's Kickstarter campaign wrapped up on April 17, things have been mostly quiet, but Brian Fargo recently changed all of that by sharing the first screenshot for Wasteland 2. Sure, we've had a glimpse at concept art before, but this is an actual screenshot from within the game. Have a look at the screen below.
The shot of the game is taken inside the Unity engine, but it's important to remember that what we're seeing here is a very early build. Fargo says in a Kickstarter update that he normally wouldn't share screenshots this early in the development process, but due to a high number of fan requests and the desire for more input from backers, he did anyway.
"Please keep in mind that we have not put in the particle effects and post-processing which will have a dramatic effect on the scene," Fargo said, "and this represents just one of the various environments for Wasteland 2 so expect to see other quite different locales."
All that being said, this screenshot still looks great. It's definitely exciting to see that all of the pieces are beginning to come together, and Wasteland 2's backers will undoubtedly be happy to get this first glimpse at the actual game. Also exciting is the fact that there will be more locations than just the desert wastes of Arizona in the game, with environment art director Koy Vanoteghem mentioning the "icy mountaintops of Arizona" and the "coastal conditions of LA and larger southern California region" in the update.
Wasteland 2 hit Kickstarter shortly after Double Fine found success with a campaign of its own. Originally, inXile was only asking for $900,000 (with Fargo willing to put up $100,000 of his own money if need be), but by the time everything was said and done, the studio had nearly $3 million to work with. Wasteland 2 is expected to arrive on PC sometime in October 2013. Click the thumbnail below to see a larger version of the screenshot.