First Two Walking Dead Seasons To Get Black And White Treatment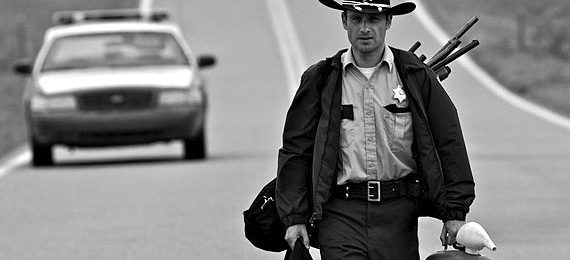 Walking Dead fans have a lot to get excited about. With the series more popular than ever here in the middle of the third season, AMC will likely be renewing the series for another season, meaning more dramatic zombie action for addicted fans. It gets even better though, as AMC has announced that it will be re-airing every episode from the first and second seasons in black and white.
AMC already tried this with the pilot episode, and apparently the response was so great that the company decided to give the first two seasons the black and white treatment. This should also sit well with fans of the comic book, as that is produced in black and white too. This news come from Glen Mazzara, who works on the series and tweeted an image of the announcement.
AMC is set to begin airing these black and white episodes in February 2013, which just so happens to be the same month that season 3 is scheduled to resume. So, it would appear that Walking Dead fans have a lot to look forward to in February, but now the problem is actually waiting for February to arrive. If you need something Walking Dead-related to fill the space, you might to give the episodic Walking Dead video game a spin.
The Walking Dead game has received a lot of praise from critics ever since the first episode launched, and it recently won Game of the Year at the Spike Video Game Awards. The full series of five episodes is available on Steam for $24.99, so Walking Dead die-hards are encouraged to give it a look. Are you excited to hear that the first two seasons of The Walking Dead will be re-aired in black and white?