First SDV tuning adapter is out to Comcast Subscribers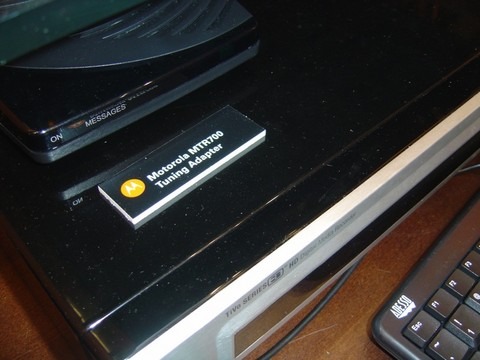 After years of testing, the long-awaited Switched Digital Video dongle for TIVO owners is finally out. Subscribers at NJ area with SDV services have started to receive notification from Comcast Cable service about the availability of tuning adapter to resolve two-way interaction SDV on one way tuner receiver like TIVO S3, HD or XL.
The Cisco STA1520 tuning adaptor is available at selected areas for now, with no extra cost. User can connect the adapter via USB connection to TIVO DVR (with software 9.4 or higher). Early adopters have reported successful SDV channels access with this adapter on their TIVO. If you have such tuner devices and are residents of Denver or New Jersey with Comcast cable services, it's time to call the customer services.
Comcast's notification to Subscriber
Dear Valued Customer:

As a part of a system upgrade in your area this fall, we are introducing an exciting new way of delivering video programming to your home, called Switched Digital Video (SDV).

Currently our system sends all channels simultaneously, all the time, whether they are being viewed or not. SDV is a two-way video technology that lets us deliver individual channels over our fiber optic network at the moment you tune to them. This new technology will allow us to expand the services we offer our customers, including by providing more high-definition programming and faster internet speeds.

Because SDV is a two-way interactive technology, you will not be able to view SDV channels using one-way devices such as your TiVo equipment without some additional assistance. To ensure that you will be able use all the features of your TiVo equipment and enjoy all the channels you currently receive, Comcast, in partnership with TiVo, has developed a special tuning adapter to use with your TiVo equipment.

Starting on October 6, 2008, you can bring this letter to one of your local Comcast payment centers at:

[centers vary by area]

where we will give you a tuning adapter at no additional cost. Or, you can call us at 1-800-COMCAST and refer to "the TiVo letter," and we will schedule an appointment for a technician to visit your home to install it for free. Representatives are available by phone 24/7 to assist with any questions you may have.

Please refer to the FAQ section of this letter for more information on SDV. Remember, you can reach us 24 hours a day, seven days a week at 1-800-COMCAST or chat with us online at www.comcast.com.

Thank you for being a Comcast customer!
credit tivocommunity