First Retina MacBook Pro online orders have arrived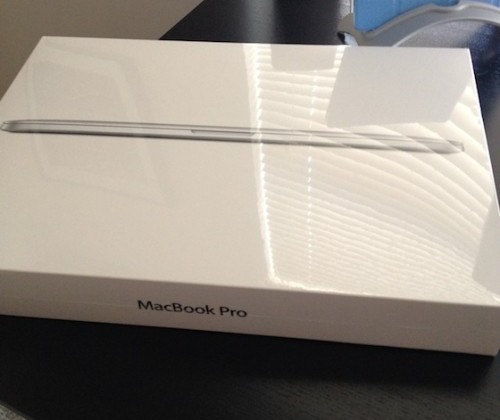 The first online orders for Apple's new MacBook Pro with Retina display have begun shipping. In fact, some customers have already received their shipments, while a few others say that they were able to purchase the Retina MacBook Pro in-store. However, many Apple retail stores are still out-of-stock on the new notebooks other than the display models.
When the new lineup of MacBook Pros was announced during Apple's June 11 WWDC 2012 keynote, it was revealed that the new notebooks would begin shipping that day. But by June 12, due to what appears to be overwhelming demand, shipments have already been delayed to 2 to 3 weeks. And by June 13, shipments were further extended to 3 to 4 weeks.
However, for those that ordered early, the new MacBook Pros are starting to arrive. One of these lucky customers submitted photos to MacRumors, showing off his new Retina MacBook Pro custom configured with a 2.7GHz processor, 16GB of RAM, and 512GB of Flash storage. For more details on the new MacBook Pros with Retina display make sure to check out our full review.