First production Hennessey Maximus 1000 heads to SEMA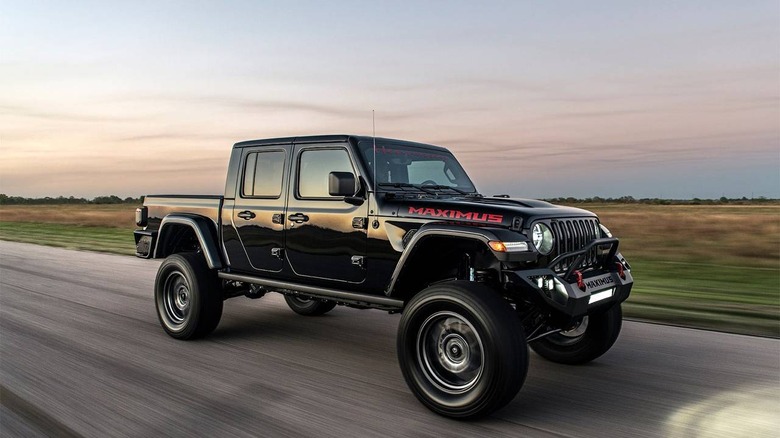 The gang over at Hennessey has taken the already cool Jeep Gladiator and turned it into something much more than Jeep intended, the vehicle is the 2020 Hennessey Maximus 1000. The vehicle looks like a lifted Gladiator on the outside with special Maximus front and rear steel bumpers, heavy-duty off-road axles, and lots more.
The most significant change for the Maximus 1000 is that Hennessey ditched the standard V6 engine and crammed in its place a 6.2-liter supercharged Hellcat V8. The V8 isn't stock thanks to an HPE1000 engine upgrade, it makes 1000hp and 933 lb-ft of torque.
Hennessey says that the Hellcat V8 pushed the lifted Gladiator to 60 mph from zero in 3.9 seconds. The list of modifications is extensive, including upgrades to the ECU, wiring harness, radiator, and fuel system. The engine has a stainless steel exhaust.
The vehicle uses Dana 60 front and rear diffs with 4.88 gears. The wheels on the Maximus are Hennessey aluminum units, and they are shod with BFG off-road tires. Suspension upgrades include a 6-inch lift and King off-road suspension. Inside the truck is an upgraded leather interior with Hennessey and Maximus embroidering.
There is plenty of exterior badging for the vehicle that says Hennessey and Maximus. Only 24 units will be made, and a badge with the vehicle's serial number will be applied inside. Hennessey is asking $225,000 for each unit, which includes the price of the new 2020 Gladiator truck. Maximus 1000 can be ordered directly via Hennessey or via any authorized Jeep dealer. Hennessey says that the truck can haul stuff and offroad in the morning and hit the drag strip in the afternoon.