First photo of production Sony Alpha A77 and A65 DSLRs surface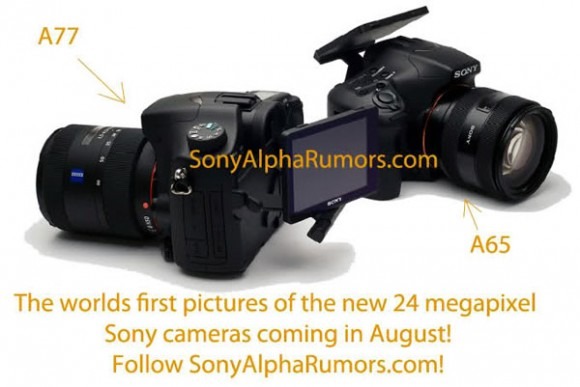 The first photo of two new production Sony DSLR cameras has been posted up. The image you see below has both the Sony A77 and A65 digital cameras that were planned originally for a July unveil. The announcement was pushed until August after the Japanese disasters a few months back. The Sony A77 is said to be the new top of the line for APS-C models and will replace the A700.
The A77 uses a 24MP sensor that is supposed to offer very impressive ISO performance. Apparently, the specs aren't final, but rumors are that the ISO range will be 100 to 102,400. The A77 also sports a double Bionz processor and a 3M dot OLED EVF. The camera can shoot ten frames per second and is said to have an 11 cross point AF system. It can also record full HD video and has USB 3.0 connectivity. The A77 in body only is expected to be about $1,000.
The specs on the A65 aren't mentioned, but we know it will replace the A55 and is very similar to the A77. The difference is said to be no magnesium alloy body for the A65 and no top LCD. These sound like nice cameras at a decent price. We will watch for more details like official pricing and availability.