First "Operation Payback" DDoS arrest made; WikiLeaks denies involvement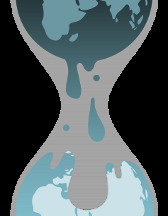 The first arrest related to the 4chan group Anonymous' take-down attempts on PayPal, Visa and MasterCard this week over WikiLeaks controversy has taken place, with Dutch authorities reportedly taking a 16 year old into custody. According to a press release by the High Tech Crime Team of the National Investigation in The Hague, the teen has confessed to his involvement in the DDoS attack, which attempted to bring down the payment platforms after they refused to process donations to WikiLeaks.
The Dutch National Prosecutor believes that the youth "is probably part of a larger group of hackers, to which the investigation continues." His identity was apparently quickly discovered, and the High Tech team moved to arrest him and seize his computer equipment.
Meanwhile, WikiLeaks has released a statement denying involvement with the DDoS "Operation Payback" attacks. "There has been no contact between any Wikileaks staffer and anyone at Anonymous" the statement reads, "Wikileaks has not received any prior notice of any of Anonymous' actions." According to WikiLeaks spokesman Kristinn Hrafnsson, "We neither condemn nor applaud these attacks. We believe they are a reflection of public opinion on the actions of the targets."
[via ArsTechnica]