First official Star Wars app has Jedi selfies, news, and soundboard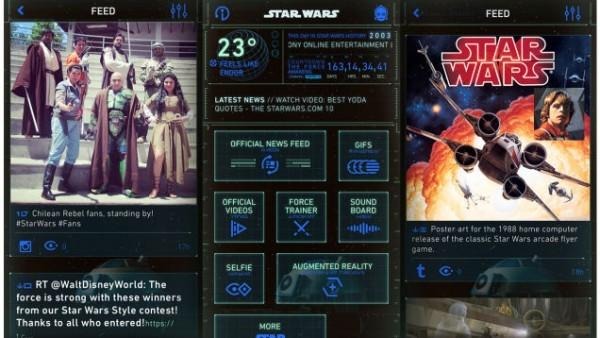 Just in time for San Diego Comic-Con, Disney and Lucasfilm have released the first official Star Wars app for both iOS and Android. The app, simply titled "Star Wars," is not like dozens of games or official tie-ins that we've seen already. It's the first official app that acts as a mobile hub to everything Star Wars related. The app offers plenty of what you'd expect, like news on the movies, history details, and media, but it also features some fun distractions like a soundboard full of iconic sound effects, and the ability to take Jedi selfies.
The news feed will actually be very useful to Star Wars-die hards who want to stay on top of the latest info: the app pulls updates from all the official Star Wars social accounts, including Facebook, Twitter, Instagram, YouTube, and more. There's also the expected countdown timers to this December's release of Star Wars: The Force Awakens.
As for interactive features, there's a Force Trainer "game" that lets users practice with a simulated lightsaber by using the phone's motion sensors. Then there's the GIF section, where a wide range of officially licensed animated snippets can be quickly copied and pasted for sharing in messaging apps.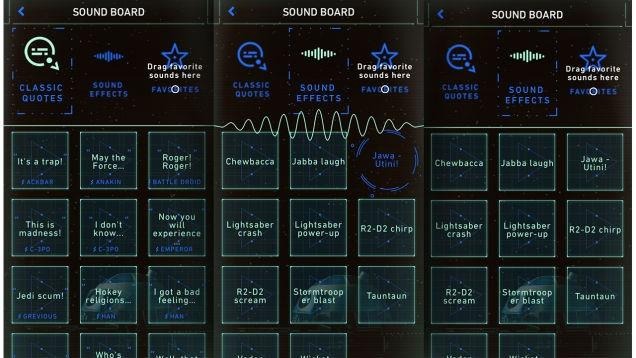 The sound board has all the clips you'd expect, including a Wookiee roar, "It's a trap!", lightsaber sound effects, and of course R2-D2's beeps. If you're ever curious to know how your local weather compares with the Star Wars universe, the app will let you know which location has similar conditions.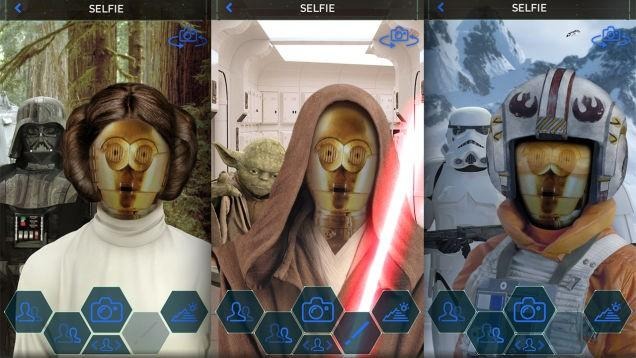 And what entertainment app wouldn't be complete without some kind of selfie feature? Thankfully the Star Wars app aces the category, letting users customize their photo with choices of backdrops, costumes, and even having other characters in the shot.