First Oculus Ready PCs revealed: bundle packs aplenty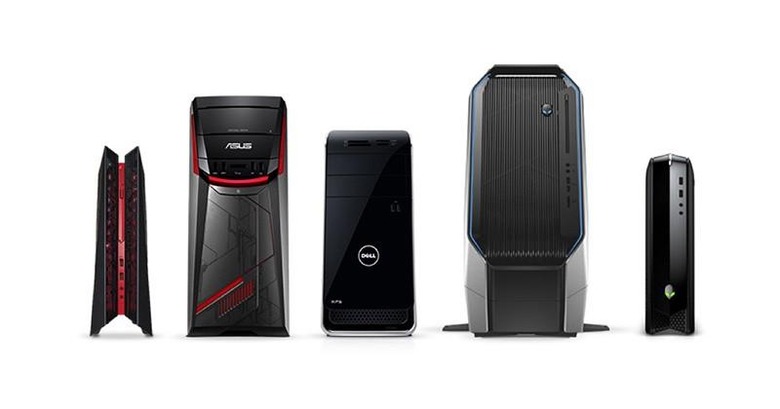 The first wave of Oculus Rift headsets are slated to start shipping next month. And if you've got one on pre-order, then it's probably about time you start thinking about your PC. If you've got an older machine, it likely won't be able to keep up with the demands of VR. And that's why Oculus has partnered with a few different companies to ship "Oculus Ready PCs."
Today we're getting our first look at Asus, Alienware, and Dell's VR offerings. Each system will come packaged with the Rift headset, sensor, remote, an Xbox One controller, and a copy of both Lucky's Tale and Eve: Valkyrie Founder's Pack. So basically, it's the system, and the same Rift bundle everyone's been pre-ordering.
The pricing on their page is a little confusing, as they are only showing the price of the system, but some have both "MSRP" and "Bundle Price" listed. Seeing the "Bundle Price" makes me think that it includes everything, but in reality, they're just giving you an idea of what the computer actually costs, when it's purchased as a part of the bundle. The savings runs from between $100-$200.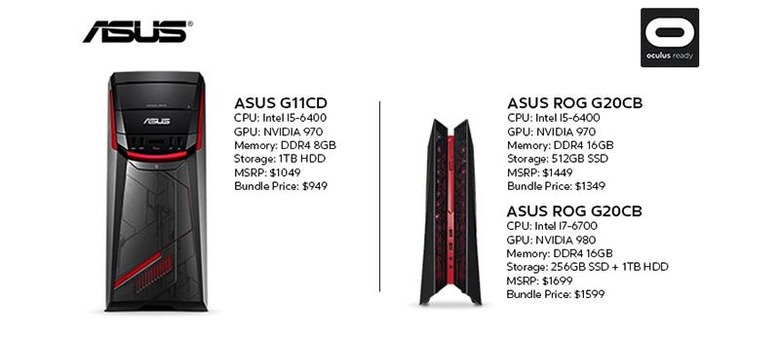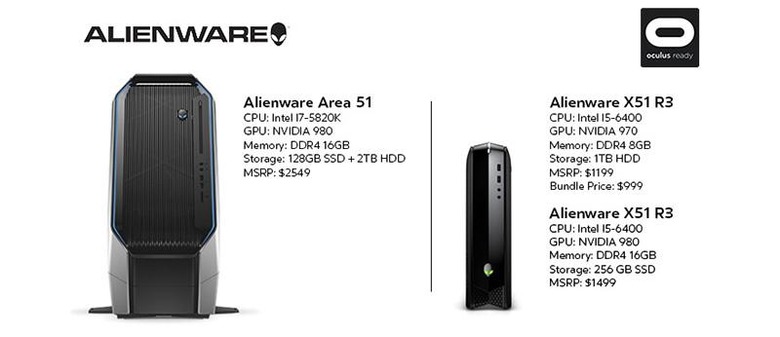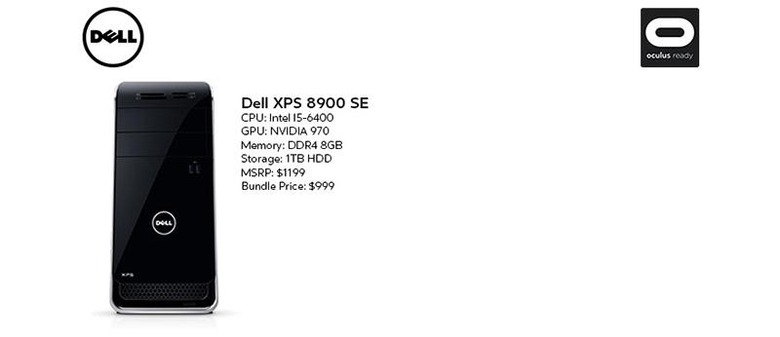 All of the computers listed have pretty similar components. An Intel i5-6400 seems to be the CPU of choice, and NVIDIA's GTX 970 is the most popular GPU. The memory ranges from 8GB-16GB depending on the system. If you're looking to spend some extra cash, you'll find an i7-6700 from Asus, and an i7-5820K being offered by Alienware. The higher-end machines also use a 980, instead of the 970.
The bundles start off at $1,499, which is pretty expensive for a gaming experience. However, if you're already looking at upgrading your machine, then it's not quite as bad. You'll be able to find the bundles available from Best Buy, Amazon, and the Microsoft Store.
So what happens if you've already ordered a Rift, and want to get in on the deal? You'll need to head over to your order status page and opt into partner offers. Then, on February 16, you should receive a special code that will allow you to get the same discount on all of these Oculus Ready PCs.
What we don't know is how soon these machines will actually ship. The page says that you'll be able to pre-order them starting February 16, but there is no ship date. Will it ship out around the same time as the first batch of Rift headsets next month? Or will it not ship until June, when current pre-orders are scheduled to be filled? One would imagine that these machines will ship out sooner, rather than later.
Source: Oculus