First look at Rock Band Wii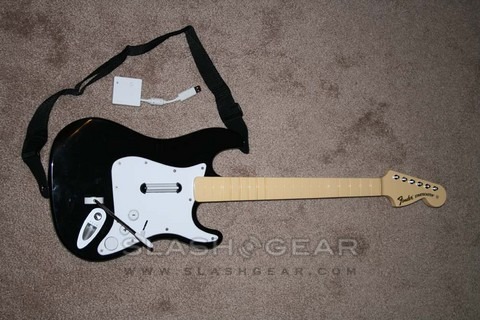 Every now and then I open the door to find the FedEx guy holding some very nondescript brown boxes. These are my favorite days, as it generally means something new to review has arrived. The latest boxes weren't quite so nondescript, as they had the words Rock Band, and Wii.
The game isn't due out for the Wii until the 22nd, which is far enough out that they weren't able to ship mine out with the full retail boxing. The game itself and the instruments are exactly the same as you'll find in stores next week, so I though that instead of a traditional unboxing, I'd just give you a good look at the instruments.
The guitar is very similar to the other versions of the game, just as one might expect. The only real difference besides the button layout is the inclusion of a wireless dongle. Much like the PS3 version, your connection button is located where the USB cable would come out on the 360 guitar.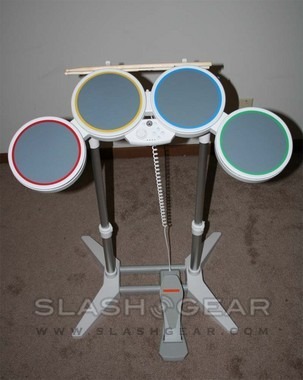 The drums too look very similar to the other versions, with only a few minor details changed. Obviously they've changed the overall color to Wii-white and altered the button layout for the Wii as well. For some reason it seems that Harmonix has decided to change the two bars connecting the feet from metal to plastic. In addition to being plastic, they have flattened one side of the bars, allowing it to rest more flush with the ground which seems to provide a little extra support.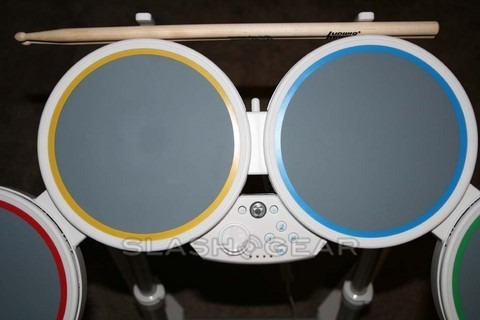 These are really the only hardware changes to note. They don't appear to have changed the mic, and I was shipped a standalone retail USB hub, though I would likely expect to find one of the regular Rock Band USB hubs in the retail kits next week. Tomorrow I'll be bringing you my impressions of the new hardware and let you know how the game plays on Nintendo's latest console.