First images of Android M's new photos app surface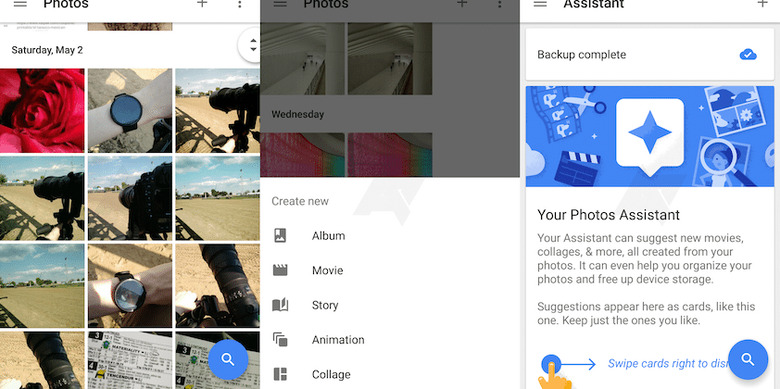 There have been rumblings for some time now of Google spinning off the photos features of Google+ into a separate app, and now, with the company's I/O 2015 event only days away, some of the first images of the Android version have been leaked. The timing can't be a coincidence. Google is expected to announce Android M, the code name for the latest version of the mobile OS, and a new photos app could play a big part in the new software offerings.
From what we can see in the images below, the reworked app, simply called "Photos," features a more intuitive interface that makes both navigation and picture editing easier. One of the key new features seems to be Assistant, likely a replacement for Auto Awesome, which can be used to create content like collages, albums, and movies, as well as edit and apply effects to images.
There are several new gestures to use with Photos, like pinch-to-zoom into photos, swiping to get out of them, and touch and dragging to select multiple images. Also useful will be automatic photo organization, such as face-matching, with options to sort by day, month, and a tile layout similar to the current album view of Google+ on the web.
While the new Photos app is sure to launch on Android first, an iOS app will likely follow. It is believed there will also be a web version, featuring a similar interface as the mobile app, available at photos.google.com (the address currently redirects to the Google+ version at plus.google.com/photos).
SOURCE Android Police