First Aquaman trailer revealed at SDCC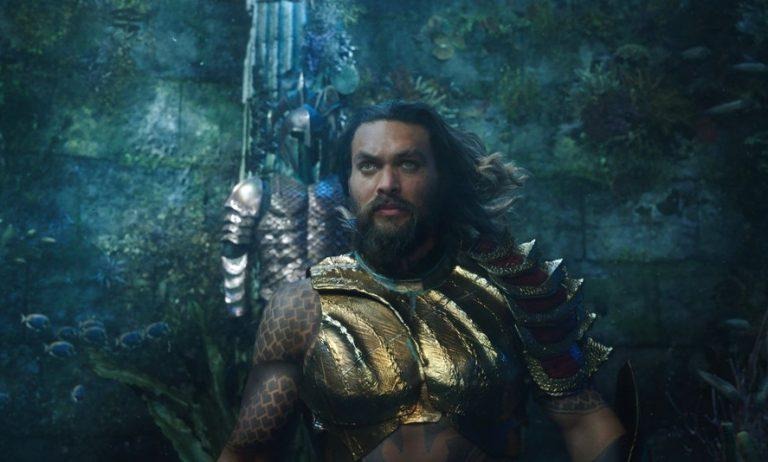 DC superhero Aquaman hasn't been seen since his appearance in last year's Justice League, but he's finally getting his own movie this fall. The film is also the first since Warner Bros. announced a revised approach for its franchise of DC hero film, with less focus on an interconnected universe as Marvel Studios. Director James Wan was at San Diego Comic-Con this weekend to reveal the first trailer, and it looks like Aquaman is doing all it can to avoid the dark and gloomy world of some of the recent DC films.
The trailer manages to pack in a lot for just two and half minutes. We see a quick look at Aquaman's origins, including his parents and an incident in which he's protected by sharks in an aquarium. Played by Jason Momoa, Aquaman seems to spend quite a bit of time on land during his journey to becoming the king of Atlantis.
While the trailer doesn't include very many underwater scenes, those that are shown reveal a bright, colorful world full of sea creatures, thanks to plenty of special effects. Before showing the trailer, Wan told the Comic-Con audience that he wanted Aquaman to "play more like a science fiction fantasy film than a traditional superhero movie."
At first glance, it seems Wan is delivering on his goal, with Aquaman also feeling like the perfect choice for Warner Bros. to focus on films that stand well on their own, instead of serving an expanded universe. This is also apparent in the overall tone of the film, with Momoa delivering a number of one-liners and having a fun, up-beat attitude, in sharp contrast to the recent Batman and Superman movies.
Starring alongside Momoa are Amber Heard, Patrick Wilson, Nicole Kidman, Willem Dafoe, and Yahya Abdul-Mateen. Aquaman will debut in theaters on December 21st.
SOURCE Warner Bros.