Electronic Arts has already revealed plans to talk in depth about Apex Legends season 2 during E3 2019, but before that happens, Respawn Entertainment is parting with a few morsels of information today. Respawn has revealed some high-level changes coming to the season 2 Battle Pass, and they seem like changes the larger playerbase is really going to like. On top of all of that, Respawn also announced a new event called The Legendary Hunt that's coming to the game next week.
Chief among the additions in The Legendary Hunt is the Apex Elite Queue. This is a special queue that you're granted access to once you place in the top 5 in any match. You'll need to continue placing in the top 5 to stay in the queue, which might prove to be quite the challenge considering you'll be going up against other high-placing players. Even better is that finishing in the top 5 during a match will get you a full Battle Pass level, though that's a bonus you can only get once per day.
During The Legendary Hunt, there will be a number of limited-time challenges to complete, which will unlock new rare, epic, and legendary skins. Plus, from Friday June 7th at 10am PST to Monday, June 10th and 10am PST, you'll be able to earn double XP for both account progression and Battle Pass progression, so you'll be able to kick off The Legendary Hunt with some bonus experience.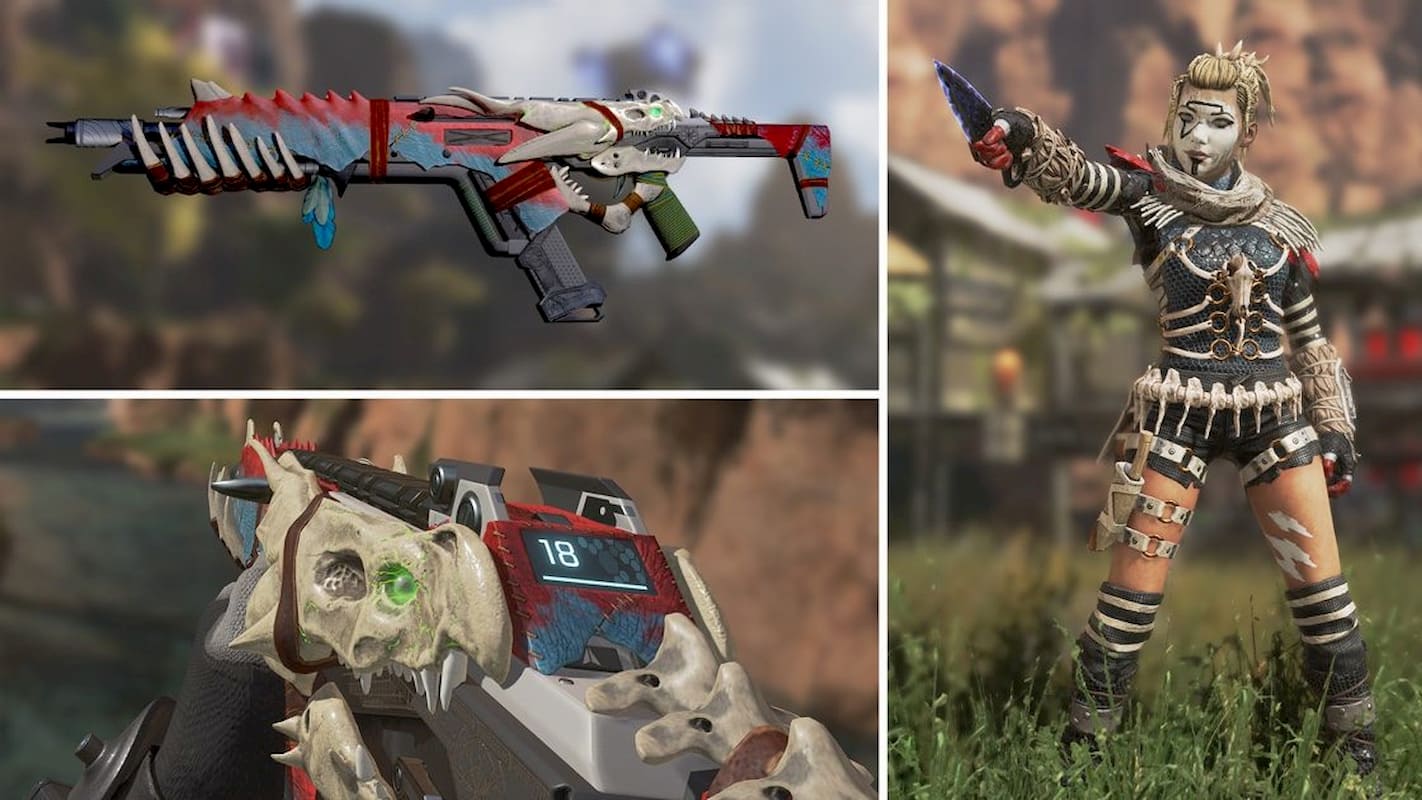 Finally, we come to the topic of skins. There will, of course, be some new skins to buy during The Legendary Hunt, and they'll rotate through the in-game store every three or four days. On top of that, all current Battle Pass owners will get the Legendary Honored Prey skin for the R-301, while those who have reached Battle Pass level 15 will get the Night Terror skin for the Wraith, both of which can be seen in the image above.
As far the changes to the Battle Pass formula in season 2 are concerned, Respawn says that it's listened to player feedback and has tweaked rewards as a result. Three additional legendary skins have been added to the premium track, meaning players will receive a legendary skin every 25 levels starting at level 1. The level 100 reward, meanwhile, will become an evolving weapon skin that will be given a special recolor once players reach level 110.
Beginning in season 2, you'll also be able to level up your Battle Pass by completing daily or weekly challenges. The hope, Respawn says, is that these challenges will make it easier for players to level up their Battle Pass while at the same time making it so players who begin leveling their Battle Passes later in the season can catch up.
We'll also see the removal of badge and stat tracker rewards on the premium track, with seasonal win trackers remaining in the free track. Those badge and stat trackers will be replaced with "items from three new content categories," but those won't be revealed until closer to season 2's start date. Last – but definitely not least – is the reveal that there won't be any voice lines as rewards in the season 2 Battle Pass; they've been replaced by crafting metals, and if you level your Battle Pass completely, you'll earn enough metals to craft a legendary item.
So, in the end, it sounds like there will be a lot of good changes coming along with season 2, with The Legendary Hunt event there to tide us over while we wait for more information. The Legendary Hunt begins on Tuesday, June 4th, and will run for two weeks. We'll have more information for you when EA and Respawn announce it at E3, so stay tuned for that.