Firefox Send encrypted file transfer service is free for everyone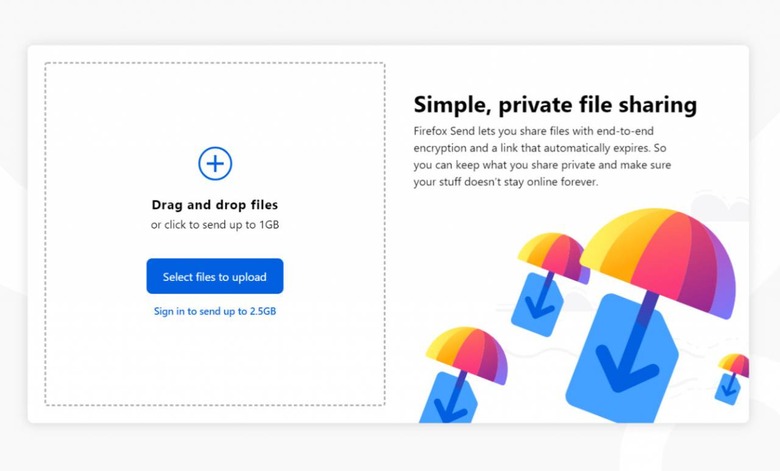 Mozilla has its own free online file-sharing service and it is now available to everyone. Called Firefox Send, the platform originally launched in 2017 as an experimental service under Firefox Test Pilot. Though the latter no longer exists, Firefox Send has blossomed into an end-to-end encrypted file transfer service enabling anyone to send files up to 2.5GB in size.
A number of online file transfer services exist, such as WeTransfer, but Mozilla is offering its product with a twist: it's focused on privacy. Firefox Send features end-to-end encryption, enabling users to send sensitive documents they may otherwise be uncomfortable uploading, such as financial papers or business reports.
The service is billed as a simple — and free — way to send large files. Anyone can upload files up to 1GB in size, but users will need an account before they can upload files between 1GB and 2.5GB. Firefox Send offers various controls and features, such as the ability to limit how many times the file can be downloaded before it expires.
As well, users can choose how long the link is live before it expires and add a password as an extra layer of protection. Recipients can download the files via the link they receive from the person sharing the content; they don't need a Firefox account to download, but they will need one to upload a file with a size greater than 1GB.
There are notable limitations — Firefox Send is merely a free service that makes it easy to quickly upload a file and send it to someone without worrying about an exposed copy on a server somewhere or whether the recipient has the right account to download. The service is akin to WeTransfer rather than something like Dropbox, but there's no option to pay for extra storage.