Firefox OS Marketplace appears in leaked images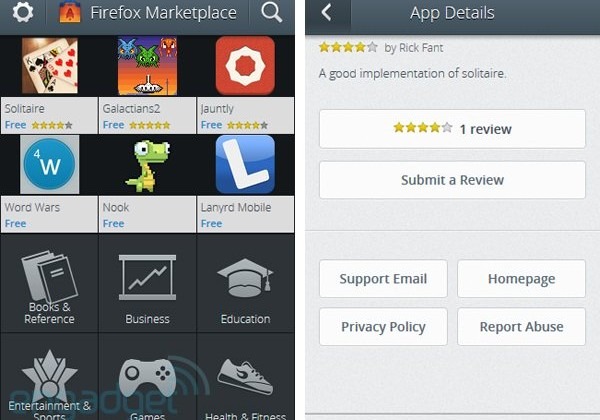 Those of you hankering for another look at the incoming Firefox OS will be happy with this next piece of news. Engadget is playing host to a collection of leaked images that show off the Firefox OS Marketplace, giving us an idea of how we'll shop for apps using the OS. Of course, we use the term "shop" loosely since all of the apps that appear in the images are being offered for free, but what can you do?
The fact that all of the apps pictured are available for free suggests that Mozilla has yet to work out a pricing scheme (or payment methods) for the Marketplace, but with the OS not launching until 2013, it has time to figure that out. Naturally, a number of apps will be available for the reasonable price of absolutely nothing, but expect to see some paid apps on offer as well.
The Firefox OS Markerplace is obviously geared toward easy searching, and like most app stores, selecting an app you're interested in will take you to a page that offers descriptions and ratings. The Marketplace looks a little rough around the edges in this early state, but for the most part it also looks like Mozilla has almost everything in place. This suggests that Mozilla is pretty far along in the production of the Marketplace, which is something to get excited about if you're looking forward to Firefox OS.
That being said, keep in mind that the Marketplace as we see it today could change – perhaps radically – by the time Firefox OS is released. Speaking of that, we don't have a solid release date yet, as Mozilla is sticking to an "early 2013" release window for the first Firefox OS devices, which will be coming from Telefonica. Be sure to peruse our story timeline below for more information on Firefox OS!