Firefox OS Keon and Peak developer phones revealed for eager coders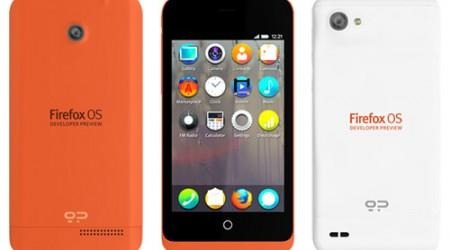 Mozilla has revealed its first devices for Firefox OS developers wanting to code for the new platform, with the so-called "Geeksphone" Keon and Peak handsets aiming for both the affordable and mid-tier of the smartphone market. Keon, the first Firefox OS Developer Preview Phone has surprisingly humble specifications for a modern device – a 1GHz Snapdragon S1, 3.5-inch HVGA touchscreen, and a 3-megapixel camera, for instance – but fits in perfectly with Mozilla's ambitions to dominate the entry-level market; meanwhile, its Peak sibling ramps up the specifications to a Snapdragon S4 dualcore.
As well as the dualcore chip – running at 1.2GHz – Peak also has a 4.3-inch qHD IPS display, an 8-megapixel main camera, and a 2-megapixel front camera. There's 4GB of ROM and 512MB of RAM, along with WiFi b/g/n, triband UMTS (2100/1900/900) and quadband GSM/EDGE. Mozilla also squeezes in a microSD card slot, light and proximity sensors, a g-sensor, and GPS, along with an LED flash for the camera and a 1,800mAh battery.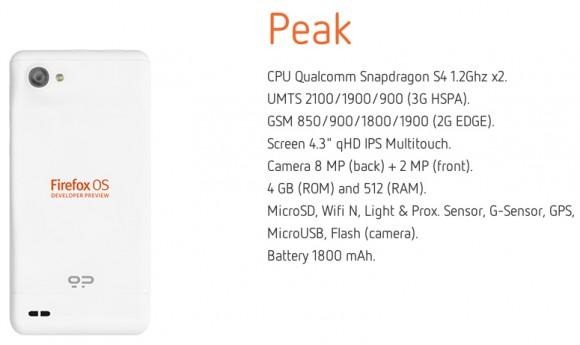 In comparison, the Keon lacks a front-facing camera, though it has the same connectivity options, RAM, and ROM. Its battery runs to 1,580 mAh. Both devices will be supplied unlocked and SIM-free, ready for developers to slap their own SIM card inside and get coding.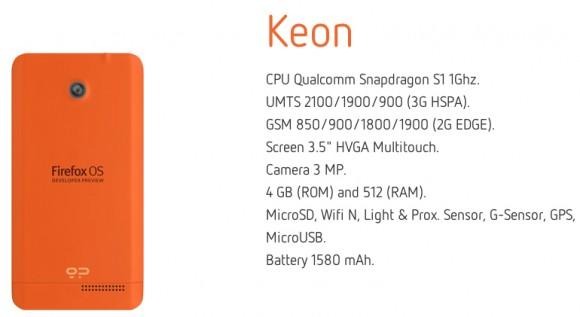 That coding, meanwhile, may well be done at one of the Firefox OS App Days, happening this week across the world. However, Mozilla also has a Firefox OS Simulator for those wanting to code without hardware; there's more detail on Firefox OS here.
Mozilla says the Keon and Peak Firefox OS Developer Preview Phones will begin shipping from February, though pricing for each device is yet to be confirmed.
[Thanks Al!]