Firefox is finally now on iOS for real and for everyone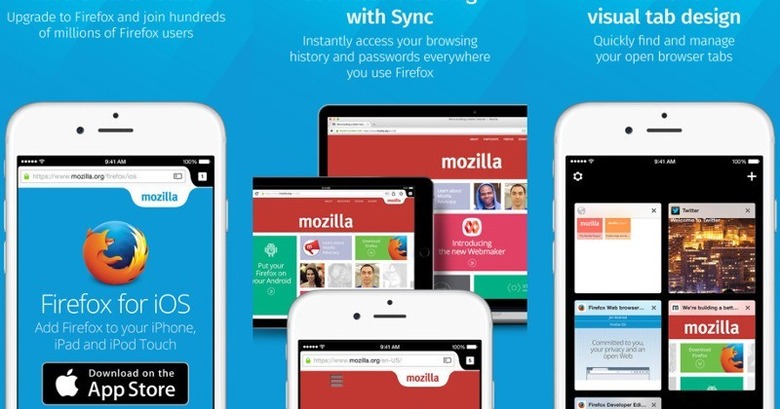 After a long, and really very long, wait, Mozilla has finally officially brought its Firefox web browser to Apple's mobile platform. While it initially said that it would not bring Firefox to iOS, Mozilla eventually relented and revealed last May that it was indeed working on somewhat of a port of the popular browser. Last September, it rolled out closed beta testing to users in New Zealand, hinting at an eventual public release some day soon. Well, that someday has finally arrived. Here's Firefox on iOS.
Not to rain on anyone's parade, the arrival of Firefox on iOS might be a bit less explosive than it could have been had it happened a few years back. The outcry for more browsers on iOS has somewhat dwindled a little, with users content to set up camps around Safari, Chrome, and sometimes even Opera. Mozilla might have missed a golden opportunity, but it could still have time to catch up.
Firefox's biggest hurdle in establishing a presence on iOS was Apple's restrictive rules that any third party browser app should use its WebKit rendering engine, the same web engine that Safari itself uses. Not a problem for Chrome since it is (or was, depending on when you askl) basically using something WebKit-based. Firefox, on the other hand, is intricately tied to Gecko, Mozilla's own engine, not just in the rendering of web pages but even for the user interface. To get around that restriction, Mozilla had to build a Firefox app that actually used WebKit while still retaining many of the features its users have always wanted to see on iOS.
In essence, that practically means only one thing: Firefox Sync, which syncs passwords, browsing history, and bookmarks across all devices where the user is signed in to his or her Firefox account. With web rendering performance all but almost equal, that will be the distinct advantage of Firefox on iOS, though many might also prefer Firefox's aesthetics.
Needless to say, the last of the major web browsers has finally made it to iOS, putting an end to a story that many might have already forgotten. Welcome, Firefox, and hope you stick around.
Download: Firefox on iOS