Firefly Returns As A Cross-Platform Cross-Device Multiplayer Game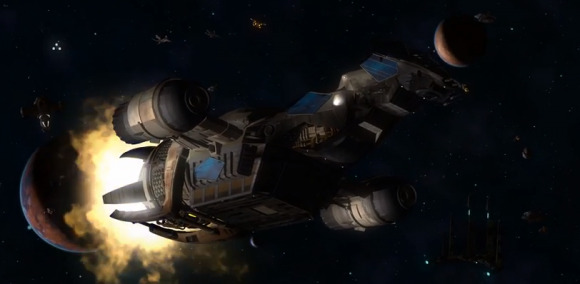 In "Firefly Online", those of you crossing your fingers and your toes hoping for Joss Whedon to reveal a Firefly TV show revival at this years' SCDD get a half-treat this afternoon. Those in charge of holding the torch for the long-lost cult classic science fiction show have found the developers and backing they need to create none other than a high-flying mobile video game, appearing in 2014 for both Android and iOS devices.
This game will allow you to fly Serenity through space, creating your own adventures as you do so. It'll be up to you to create the ship from the show – or whatever ship you do so desire to create, while you "explore the Verse", as they say. This game will feature "cross platform, cross device" support, meaning we'll be able to pick up where we left off from one device to the other, too.
It's Fox Digital Entertainment that's footing the bill on this one, working with mobile game developer QMX Interactive behind the scenes. Those aiming to roll with the game in either mobile or desktop web browser format are able to access updates from the development crew through their official "Keep Flying" website. Upon signing up, the following message is delivered:
"On behalf of QMx Interactive and Spark Plug Games, we want to say thank you.

Together with you, our fellow Browncoats from around the world, we're about to do the impossible. And that makes us mighty.

FIREFLY ONLINE is going to be a game unlike any other and 99.9% of that will be due to fans like you who are already making it so incredibly special. As a registered FIREFLY ONLINE player, you will receive exciting news updates and be entitled to future discounts and exclusive offers. You'll be the first to know when our new website features are unveiled, such as the blog, where you'll be able to track live progress of the game and ask questions of the developers, and the FFO store, which will be absolutely chock-full of shiny virtual loot (and real loot, too).

It's going to be one mighty fine shindig, if we do say so ourselves.

Again, we humbly thank you for your support. Keep flying!"

- Andy Gore (QMx) and John O'Neill (SPG)
Stick around as we follow the creation of this game and see how it fares in the ever-expanding world of MMORPGs and the like. Until then – Find a Crew. Find a Job. Keep Flying.
NOTE: This game will be out for smartphone and tables initially, but the crew has made it clear that "we'll see how things go
". They followed up to an off-hand question on if the game will appear for Windows RT, Windows 8, and Windows Phone 8 with a "just 'cause you asked
We'll make it so."
The PR team behind this game is clearly underestimating the interest they're about to have with half-announcements such as these, bless them. They'll wise up quick!