Finnish based Holiday Club to build Angry Birds Activity Parks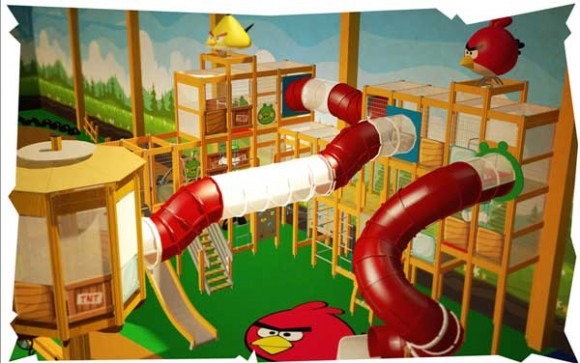 If you're a fan of Angry Birds video games, a company that owns several resort hotels in Finland is set to construct a series of Angry Birds Activity Parks at three hotels. The first of the three activity Parks based on the Angry Birds video game will be a year-round indoor activity park. The park will be completed in Kuusamon Tropiikki by Christmas of 2012.
In February 2013, another Angry Birds activity park will be completed in Saariselka. By the fall of 2013, the third Angry Birds park will be completed in Saimaa, in Lappeenranta. The Activity Parks are aimed at children and are more like playgrounds that use Angry Birds themes than a theme park with rides.
As you can see in the photograph above, the rendering shows playground equipment that has shapes and styles from the video game app. I see a lot of design in the parks that goes along with the pigs and the blocky buildings the pigs build. I wonder if the birds and slingshot will fit into the design more than just sitting on the blocks.
The largest year-round activity park being constructed using an Angry Birds theme is being built in Vuokatti. This is an indoor park that will measure 8700 square meters. In addition to the Angry Birds section, this particular park will also have a sports world for playing different sports and a freestyle area for skateboarding and BMX bicycling. The Angry Birds section will be completed in December.