Finis unveils new SwiMP3.1G bone conducting under water MP3 player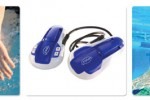 Am I the only one who feels a bit grossed out by the thought of bone conduction technology? Yeah? Well if you aren't grossed out by the thought of the tech and you like to swim, Finis has announced its latest MP3 player for swimming and water sports.
The player is called the SwiMP3.1G MP3 player and it has 1GB of internal memory. The player uses bone conduction technology to deliver clear sound underwater. The player is available now for $149.99 online and in retail stores around the globe.
Finis claims that the patent it holds on bone conduction technology is the only way to deliver quality sound under water. The device has a rechargeable battery good for 10 hours per charge and the battery charges via a USB port. The player is compatible with Windows and Mac with support for MP3 and WMA files.