Final Two Standard Editions for Android Toy Series 02 Revealed

Collectors must be getting anxious because Android Toy Series 02 goes on sale this week and the last two of the 12 total designs have been revealed. The series will have 12 different collectible designs as opposed to the 10 in Series 01 and much like a pack of baseball cards, the toys come blind-boxed, meaning you don't know which design you're getting till it's opened. The last two designs are "Noogler" and "Iceberg".
The Noogler is designed by Jeff Yasick for Google. It is wearing a white t-shirt with the word "Noogler" scrawled across the front a la Google's color scheme and font style. Its head looks like a kiddy propeller hat and the propeller does spin. The ratio or likelihood of opening a box containing the Noogler is 1/16.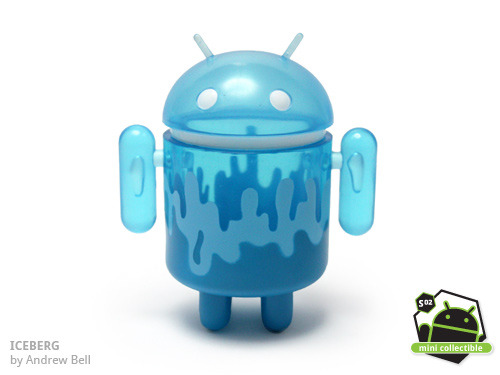 The Iceberg is designed by Andrew Bell and is a clear blue figurine with a melting ice patterns on its body. It goes from translucent to opaque. The Iceberg design will have a 2/16 ratio.
Each box will come with a foldout checklist of all the design names and their respective artists. The guys over at Android Community will be having additional Series 02 giveaways soon, so stay tuned to our announcement for that.
[via DYZ Plastic]