Filmomat automatically processes color, B&W film without the darkroom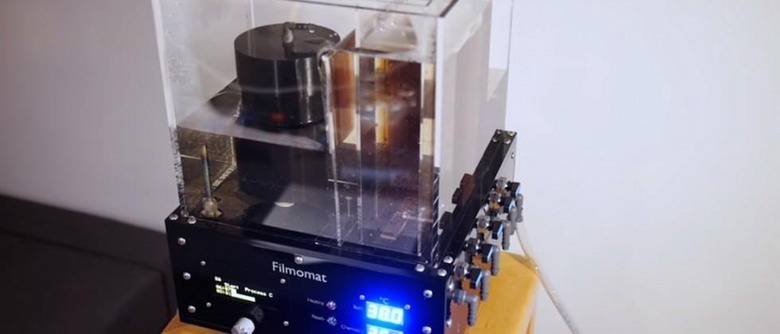 Photographers that still prefer to work in the medium of film already have difficulties when it comes to the declining supply of both film and camera equipment, but for those who are anything less than professional, the next big challenge is securing the space and tools needed for a dedicated dark room. German photographer Lukas Fritz is so dedicated that he spent a year building his own device that can automatically process both color and black & white 35mm film negatives.
Dubbed the Filmomat, the device is about the size of a microwave, and has a number of compartments for starting the various liquids used in the development process, including a 6-liter water tank, three additional tanks for the chemicals, and two more development of both film and slides.
Even more impressive is that the Filmomat has memory for up to 50 different development processes, with each one requiring up to ten individual steps and three chemical treatments. The controls consist of just a single push dial paired with a small OLED display. Users just need to put their film into a developing tank, insert it into the device, add the necessary chemicals, and press the start button.
Fritz says there's still a few software bugs and UI adjustments to be made, but it already works well and he's successfully processed a number of film rolls with it (some example images can be seen below). The photographer adds that he has no plans for mass production of the Filmomat or a crowdfunding campaign, but he is going to make a few individual machines "on request for interested customers." They should expect a price of around $2,200.
VIA PetaPixel
SOURCE Silver Photograph