Fiat 500: perhaps the coolest cheap car ever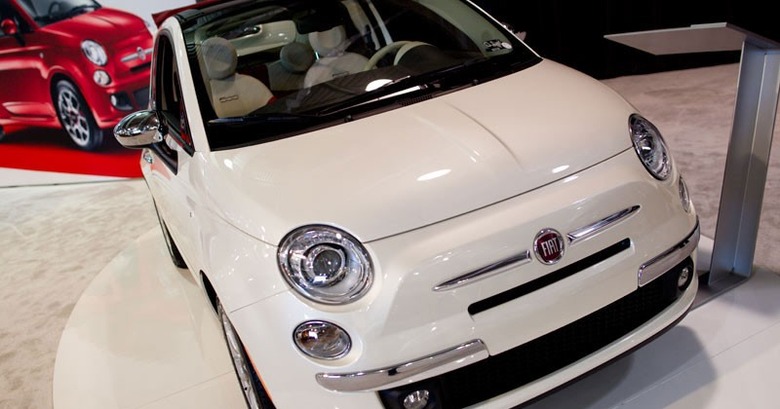 There were a bunch of cool cars at the Texas State Fair and a bunch of them scattered around were entry-level cars that were designed to be a cheap means of transportation. Most of them looked like cheap cars too. When I ambled by the Fiat booth the new Fiat 500 and 500C caught my eye right away. I walked over to take a look and was very surprised to see just how cool these little cars actually were.
Once I made my way around to where the window stickers were located, I couldn't believe just how cheap the Fiat 500 was to have so much curb appeal and some really cool features. The base model of the Fiat 500 starts at a tick over $16,000 making it one of the cheapest cars at the show. Despite the low cost of the base 500, the car has nice features, an attractive cloth interior, and a manual transmission for that price. You can opt for an auto if you don't like to change gears yourself.
The coolest versions of the 500 were the up level ones that feature the body color inside the car on trim and upgraded leather inside. The yellow car you see was a sportier version of the 500, but my favorite was the 500C with the pearl white exterior. Inside the car the pearl white (which has some fancy Italian name) carried over to the dash and other parts of the car.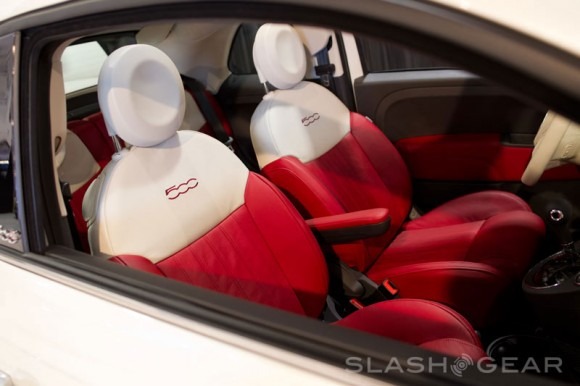 The leather interior had a two tone color scheme with white and maroon leather that matched the white body and maroon retractable fabric top. All 500C models have that fabric retractable top. The car is far from a full convertible and reminds me more of some of the massive glass sunroofs that many cars and SUVs have today. The cloth top slides back accordion-style when you press a button on the overhead console opening the entire top of the car from front to back.
The car has tiny dimensions on par with the Mini Cooper, but the interior is surprisingly roomy. There are four seats inside, but the rear seats would be reserved for the thin, short, and flexible adult or kids. The front seats are sized very well and considering that the white and maroon car you see carries a sticker of only a bit more than $26,000 the material quality inside the car is just fantastic. The leather feels soft and supple like it would last forever before getting hard and cracking. The seats were also very soft and comfortable, but offered good support. I would love to spend a few days driving one of these to see just how well it performs in the real world.