Ferrari-theme for Vertu's latest cellphone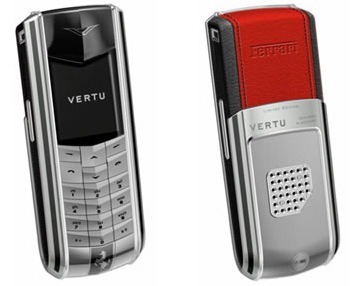 Currently it seems like you're nobody in the celebrity world if you're not driving – and crashing – Bugatti Veyron's or Ferrari Enzo's, but if you fancy a prancing horse (not literally, of course) and can't quite afford the sticker price of a four-wheeled variant then how about Vertu's latest limited-edition super-phone?
Only 1947 will be made, to commemorate the founding year of Ferrari, and the handset itself is a symbol of theirs and Vertu's continuing partnership in the Ferrari Challenge.  With a stainless steel body partly clad in black and red leather, a "brake pedal" detail on the battery cover and Ferrari logo on the front, it's a whole lot more tasteful than the last phone from Nokia's elitist sub-division.
The Ferrari Ascent will be available worldwide from July.
Vertu & Ferrari launched limited edition phone [Sybarites]