Ferrari SP3JC is a one-of-a-kind V12 drop top that is part F12tdf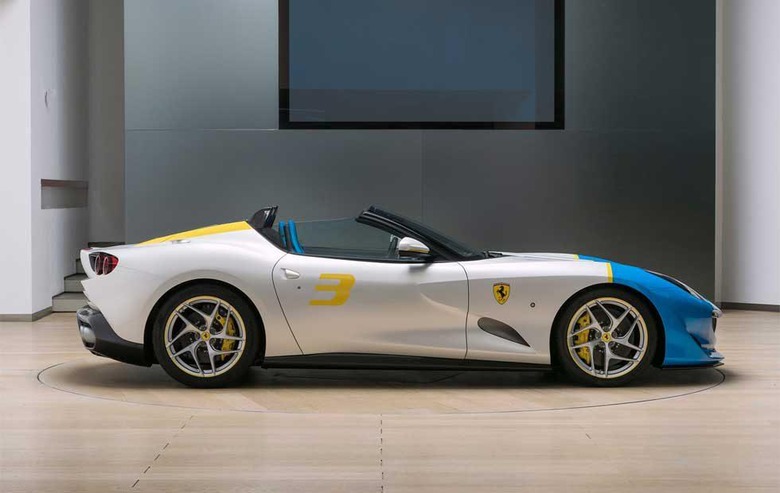 Owning a Ferrari is something that many aspire to, and few ever get to own. For the well-heeled out there Ferrari has created some limited edition models that offer more performance than the garden variety Ferrari can muster. One of those was the F12tdf that was limited edition with only 799 of them made. Ferrari has taken that F12tdf and used the chassis and running gear to make a one-off roadster for a collector.
This one-off ride is called the Ferrari SP3JC, and it was built to provide V12 open-air motoring in its purest form. Ferrari says this ride is a throwback to the V12 spiders from the '50s and '60s and took two years to complete. The owner of the car was intimately involved with the project all the way through.
Ferrari says the design of the car was to give it a muscular stance with "dynamic sculpturing" of the flanks of the car to emphasize the front-engine layout. The air intake outline in the front was made to stand out. The rather strange color scheme of the car came from the owners "passion for Pop Art" according to Ferrari.
The colors of the livery are Azzurro Met and Giallo Modena over the primary color of Bianco Italia. Inside the drop-top, the seats are trimmed in blue leather with a white insert. The same color is used in the contrasting stitching on the interior trim.
Ferrari has offered no performance specs on the car, but it uses a 780cv V12 engine. There is no indication of what the car might have cost. Consider that the F12tdf was expected to sell for around $500,000 when new and that used examples are currently selling for over $1 million and you can get an idea of what this ride might have cost to build.