Ferrari LaFerrari super exotic goes official in Geneva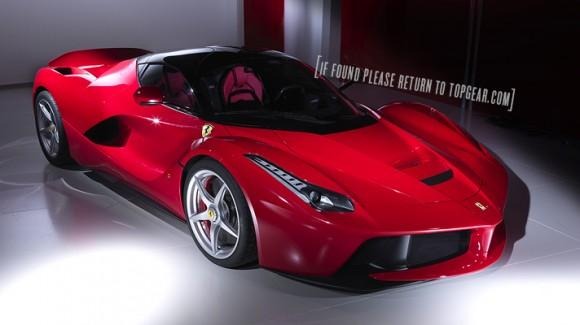 Sting, Cher, Stig, some people are so famous or infamous that they don't need last names. Ferrari apparently thinks it's new hypercar fits in the same category. The car is called the Ferrari LaFerrari. That may well be the worst name possible for the car (Ferrari The Ferrari?). Thankfully, the only bad part about the LaFerrari is the name.
The car has gone official at the Geneva Motor Show today and it is incredibly attractive. We couldn't say that of some of the Ferrari super high-end sports cars in the past. The car has a mid-mounted, direct injection 6.3-liter V12 engine said to be an evolution of the engine used in the F12berlinetta. The engine is connected to a dual-clutch gearbox and an electric motor.
The LaFerrari has a 120-cell 60 kg lithium-ion battery pack packaged under the seats inside a Kevlar casing. After all, in the event of battery problems you don't want to literally blow your arse off. The engine has a 9250 RPM redline produces 790 hp on its own. The electric motor adds in another 160 hp for a total of 950.
The beastly V12 also produces 663 pound-foot of torque. One of the important things that Ferrari hasn't talked about is exactly how much the car weighs, Top Gear believes the LaFerrari could weigh under 1300 kg. All we really need to know is that it offers hugely impressive performance with the ability to hit 62 mph in less than 3 seconds and pass 124 mph in less than seven. This is the first Ferrari production car to be fitted with the automakers HY-KERS it was developed by its Formula One guys. It also reduces emissions for the vehicle by 40% and recaptures kinetic energy lost in braking and cornering. LaFerrari pricing is unknown, but is sure to be insanely high.
[via Top Gear]