Ferrari F12berlinetta auction raises $1.5 million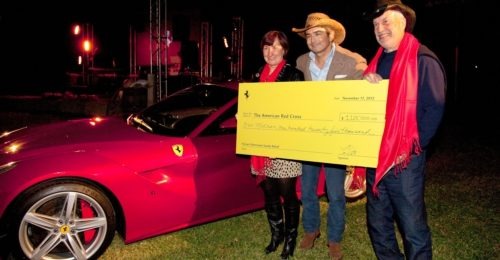 Last week, I mentioned that Ferrari was going to be auctioning off the first F12berlinetta in the United States at the inaugural US Grand Prix held in Austin, Texas. The vehicle is being auctioned off with all proceeds going to the American Red Cross to help with Hurricane Sandy relief. The auction for the car brought well over $1 million.
Ferrari auctioned off the vehicle for $1.125 million. The auction also raised an additional $50,000 from online and in person donations at auction. Proceeds raised totaled over $1.5 million with all the money going to the American Red Cross.
Ferrari fans other than the winner of the auction will have to wait until next year to get their hands on the F12berlinetta. The car carries an MSRP of a bit over $315,000. I guess the upside to being rich enough to pay over million dollars for car that starts at $315,000 is writing the money off on your taxes as a donation to charity.
The car itself is an impressive piece of machinery with a V12 engine under the hood that produces a 730 hp and 730 pound-foot of torque. Ferrari says 80% of that torque is available at 2500 RPMs . That powerful motor is attached to a dual clutch paddle shifted transmission.