FedEx Fleet Up 4,000 Fuel Efficient Vehicles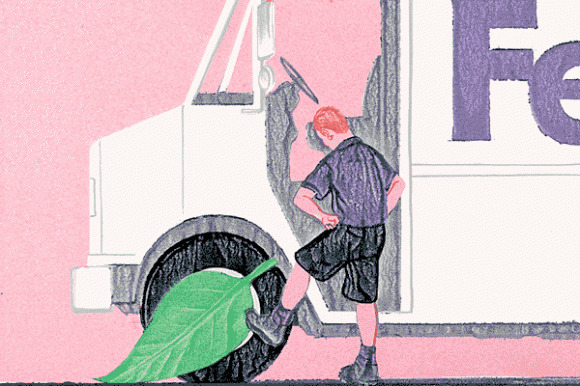 The group that brings us our review units (for the most part), Federal Express, has announced today that they'll be adding an additional barrage of fuel-efficient vehicles including electric and hybrid trucks in the very near future to bring themselves into the future on a cloud of wall plugs. With this update also comes a set of new diesel trucks for longer distance driving, a total of 43 completely electric vehicles joining the crew over the next two months in New York, Chicago, and Memphis.
[Image above via FastCompany, Illustration by Alex Nebaum]
The 4,000 number comes from the largest rollout of green for the purple and orange group in BlueTEC clean diesel Sprinter Vans that FedEx notes will be added to their fled for high-mileage delivery routes. The amount and the date of the releasing of the hybrid-electric piece of this puzzle has not yet been announced. How this will affect the way I hear the loud BRRRM noise that signals I'm getting a new iPad case in the mail is another mystery, and FedEx has not yet returned my personal calls.
Keshav Sondhi, manager of Asset Management for FedEx Express Global Vehicles, notes the following about the trucks that'll be deployed soon:
"Each Sprinter is at least 100% more fuel efficient than the most commonly found alternative it replaces," said Sondhi. "Since launching our first Sprinter in 2000, we have put close to 1.4 billion miles on these more fuel efficient vehicles, saving over 66 million gallons of fuel compared to their predecessors."
This change will, it's been said, affect more than a tenth of FedEx's overall vehicle fleet. Now we've just got to get them (and the rest of the groups delivering our electronic goods) to use the same awesome technology powering the future on the vehicles that deliver it to our doorstep.
Do you think it's possible we could change the seemingly inevitable course of history and stop the eventual decay and destruction of the natural environment, one we as humans have been chopping to bits since the dawn of the industrial revolution? FedEx, lead the way!