FedEx Expects To Ship 16 Million Packages On December 13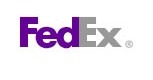 I already mentioned today that Cyber Monday was a huge day for online sales. You can bet that a significant number of the packages sold on the day were shipped using FedEx. We all know that shipping during the holidays is much slower than it normally would be and apparently, FedEx is anticipating some very busy days for its drivers this year.
FedEx has announced that it expects the busiest day in the history of the company to happen on December 13. The company expects to ship 16 million packages around the world on that one day. Over the holiday period, ranging from Thanksgiving to Christmas FedEx expects an 11% increase in packages.
FedEx was working Saturday in my area to handle all of the deliveries. You had better order your stuff early; FedEx blames much of the increased number of packages that it ships on the boom in online shopping for the holidays.