FedEx created this autonomous robot for local deliveries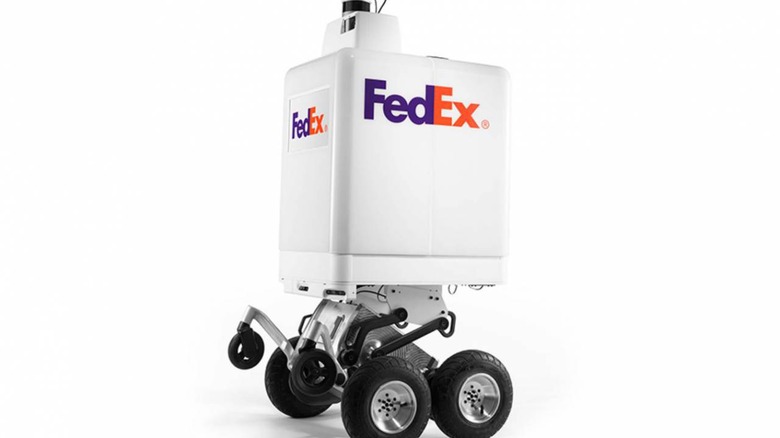 FedEx has announced a new autonomous delivery robot that's intended to handle same-day deliveries at a local level. A number of different companies have been testing autonomous delivery vehicles of their own for a while now, so it makes sense that FedEx – a company centered entirely around shipping – would want to throw its hat in the ring as well. The robot will enter testing this year, and FedEx has a number of partners that will help it put the delivery vehicle through its paces.
The FedEx SameDay Bot, as its name suggests, will handle local same-day and last-mile delivery. FedEx points out that, on average, as much as 60% of a retailer's customer base lives within three miles of one of its stores, so something like the SameDay Bot might be a good product for retailers looking to get into the delivery game.
To create the SameDay Bot, FedEx partnered with DEKA Development and Research, the company that invented the iBot wheelchair and the Segway. It'll zip around on sidewalks and roadsides to make deliveries, equipped with LiDAR and cameras to let it see where it's going and steer clear of pedestrians. With six wheels in all, the SameDay Bot looks at least somewhat similar to the iBot wheelchair, and in fact FedEx says that it'll be able to navigate unpaved terrain and even climb stairs just like the iBot can.
Partners that have signed on to test the SameDay Bot include AutoZone, Lowe's, Pizza Hut, Target, Walgreens, and Walmart, covering a few different retail segments. Testing will kick off this summer, though at the moment, the only confirmed test market is Memphis, Tennessee, with more to be announced as FedEx acquires approval from cities.
It's worth pointing out that the design you see in the image above might change before everything is said and done, as FedEx says that this is merely a prototype that will be further refined to meet safety standards. We'll see where the SameDay Bot goes from here, so stay tuned for more details as it goes through testing and prepares for a wider launch.