FEAR 2 using cat billboards for Friday 13th game launch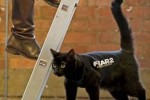 Bizarre advertising campaigns are nothing new, as game publishers and manufacturers attempt to grab just a second of the public's hyperactive attention, but this is perhaps the first time I've seen cats used as mobile billboards.  To promote their upcoming FEAR 2 title, Warner Bros has enlisted several black cats, each of which will sport the game logo and be released onto the streets of London.
The cats have been specially trained, and wear little coats with the FEAR 2 logo and website address printed on.  Warner Bros are hoping that they'll tap into the old superstitions about black cats being unlucky, hence highlighting FEAR 2's Friday launch.
Best of all, if you want your own cat coat you can apparently get them by calling 020 7841 6668 – in the UK, of course – and for an unspecified sum you can terrify your own friends and neighbours.  Probably best to have a black cat, though; it wouldn't be quite so impressive on a ginger tom.
[via electricpig]