FDA warns taco seasoning recalled over Salmonella contamination risk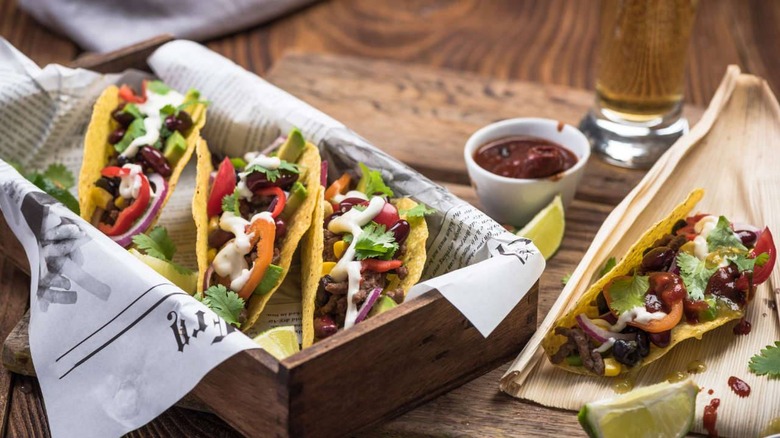 If you're planning to make tacos this weekend using premade taco seasoning packets, beware: the FDA is alerting the public to two recalls involving Walmart-brand and HEB taco seasonings over the risk of Salmonella contamination. The recall was voluntarily initiated by Williams Foods of Kansas, according to the agency, as a precautionary step to ensure no one contracts the potentially deadly illness.
The recall was announced on July 25 and covers two taco seasoning spice products featuring recalled cumin from Mincing Spice Co., the supplier of that particular spice. According to Mincing's recall, a cumin lot was tested and found to possibly be contaminated with Salmonella. Some of that recalled cumin had been supplied to Williams Foods and was used in the taco seasonings.
Fortunately, there have been no complaints or cases of Salmonella infection linked to the products. The recall covers:
- Great Value Mild Taco Seasoning Mix sold in the 1oz packet with 'Best if used by dates' of 07/08/21 and 07/09/21, as well as the UPC 0 78742 24572 0.
- HEB Taco Seasoning Mix Reduced Sodium sold in the 1.25oz packet with the 'Better by' dates of 07/10/21, 07/11/21, and 07/15/21, as well as the UPC 0 41220 79609 0.
These products were sold in 43 states. Consumers who own any of these recalled packets are encouraged to throw them away or to return them to the store from which they were purchased for a refund. Consuming these recalled spices puts people at risk of contracting Salmonella, a serious and quite uncomfortable infection that can be deadly in the elderly, young kids, and anyone with a compromised immune system.