FDA Orders 44 Vaping Products To Be Pulled From Shelves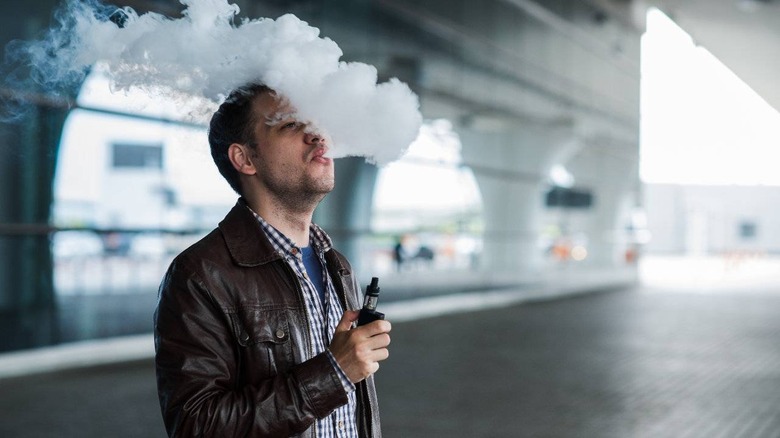 The Food and Drug Administration has ordered 44 vaping products, including items sold for hookahs and e-liquids, to be pulled from shelves in the United States. These products can't be legally sold, according to the agency, because the companies behind them do not have the proper marketing authorization. The news arrives amid the FDA's ongoing investigation of a possible link between vaping and seizures.
According to the FDA, the following companies are selling a variety of vaping products illegally, meaning without marketing authorization from the agency: Liquid Labs USA, V8P Juice International, Hookah Imports, and Mighty Vapors. Products covered by the notice include some 'Hulk Tears' products, multiple 'V8P Saltz' products, and more.
The companies have been given 15 working days to respond to the FDA with info on, among other things, when they plan to discontinue distribution and/or sales of applicable products. Acting FDA Commissioner Ned Sharpless, M.D., said:
We are committed to tackling the troubling trend of youth e-cigarette use by continuing to use all available regulatory tools to ensure these products aren't being marketed to, sold to, or used by kids. It is critical that we remain vigilant in our efforts to stem the increase in use and nicotine addiction in children driven by e-cigarettes, which threatens to erase the years of progress we've made combatting tobacco use among kids.
The agency is cracking down on vaping products as health officials express concerns over the unknown long-term consequences of vaping. Though electronic cigarettes are largely viewed as less harmful than cigarettes, a number of studies have raised concerns over potential health ramifications caused by contamination, certain flavorings, and more.