FCV Concept fuel cell vehicle unveiled by Honda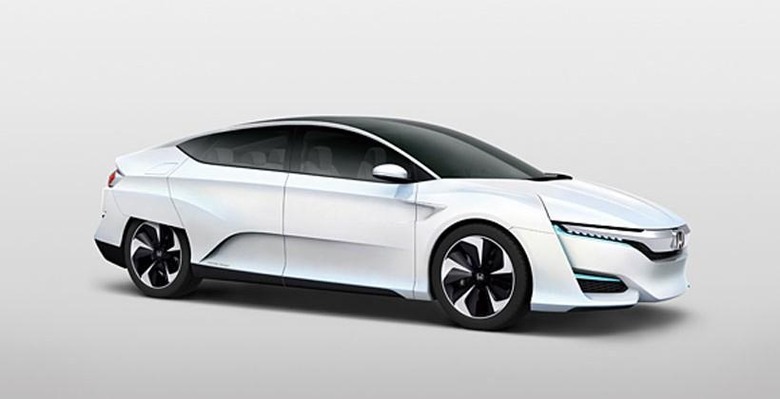 Honda has unveiled a new concept car in Japan that is designed to use a hydrogen fuel cell. The car is called the Honda FCV Concept and it is unveiled alongside the all-new Honda Power Exporter Concept. The Power Exporter is a new concept that feeds power to the vehicle and enables AC power output from the FCV with a maximum output of 9kW. The concept vehicle and charger will go on sale at the end of March 2016.
Honda plans to promote more applications for its Smart Hydrogen Station as well, which is a packaged hydrogen station unit that adopts Honda's original high-differential-pressure electrolyzer. The FCV and the hydrogen station are able to create power that produces no pollution.
The FCV Concept is a successor to the Honda FCX Clarity fuel cell vehicle. The FCV concept uses a new fuel-cell stack that is 33% smaller than previous fuel cell stacks when installed in the vehicle. While being physically smaller, the new fuel cell stack is also able to produce more power with an output of 100kW and an output density of 3.1kW/L.
Honda says that the new fuel stack cell offers 60% better performance compared to previous versions. The fuel stack cell is compact enough that the FCV Concept will be the first concept in the world to place the entire powertrain, including the fuel cell stack, under the hood of a sedan-type vehicle. The powertrain enables the car to carry five adults comfortably. The hydrogen storage tank is a 70 MPa unit giving a cruising range of 700 km and refills in three minutes.
SOURCE: Honda