Faunhofer shows off farmer-friendly sensors for field regulation galore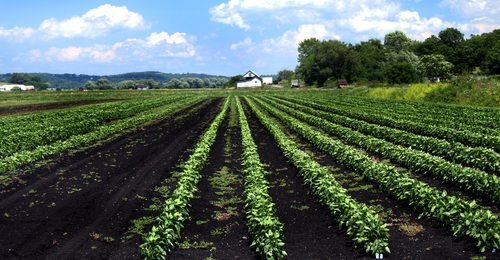 Researchers at the Fraunhofer Institute for Telecommunications HHI in Berlin have presented a working model set of soil sensors that will in the near future be able to feed a farmer results on moisture content, humidity, temperature, and leakage. These sensors have been shown at the Embedded World trade fair in Nuremberg Germany and showcased as a futuristic wireless solution for farmers to keep their crops healthy and safe through the growing months of summer and fall. Though these sensors are currently wired to one another physically, they'll soon be able to work entirely independent of one another, transmitting signals back to a base station which then communicates with the farmer's mobile phone.
The central unit to which all other units transmit uses a total of two watts of power, this compared to the same necessity for a PC being 150 watts tells you instantly how green this system is aiming to be. Each sensor is placed at a different point in the field, and each point is then read and interpreted to tell the farmer if he or she needs to take care of that piece of the field. Once the wireless units are prepared by HHI, they'll also be able to communicate with one another, bouncing signals back and forth and comparing values as they go.
This solution will also be able to register noises so that farmers can be aware of physical dangers that sneak through the fields on a daily basis. Everything from wild corn-eating animals to robbers aiming to take apart sprinkler systems for the copper to sell, there's always someone or something out there. Hopefully this system will be coming to the market in an affordable fashion as well as a timely manner – let's see some detecting this autumn!
[via Fraunhofer]