Faraday Future teases its first production EV in video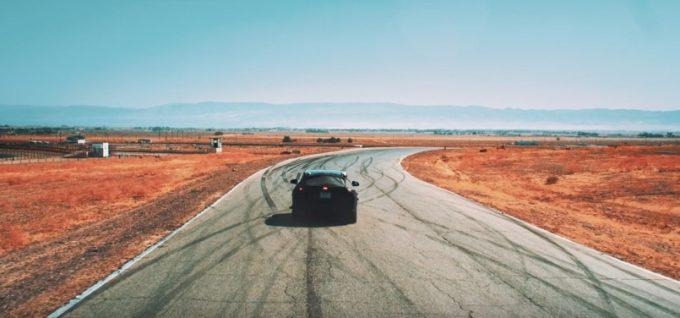 California-based electric vehicle startup Faraday Future has remained mostly quiet on its production car plans following the unveiling of its FFZero1 concept at this year's CES, back in January, but that may soon be changing. The company released a short video today teasing its upcoming production model, and while it's slim on details, it's enough to see that the EV will be less supercar concept, and more in line with the four-sedan/crossover segment.
Running just 15 seconds long, the video shows the black-clad vehicle driving on an isolated road in the desert, along with the messages "Can't hear the engine?" and "You're not supposed to." We can't see any of the car's detailed styling as it's wrapped in the kind of camouflage you see on concepts and other pre-announced vehicles when testing on roads.
When the FFZero1 was revealed, it was impressive because of how much technology it was outfitted with, along with its performance capabilities — thanks to a 1,000 horsepower engine — but it was also clearly something that would never move beyond the concept stage. With Faraday Future aiming to compete with Tesla, the leading consumer EV maker, it needs to release a car that average buyers can drive everyday.
While today's video is clearly a tease, we may not have to wait much longer for a real look at Faraday Future's new model. The company has confirmed it will be presenting at CES 2017, with more videos to be released before that.
SOURCE Faraday Future