Faraday Future prototype beats Model X P100D to 60MPH in video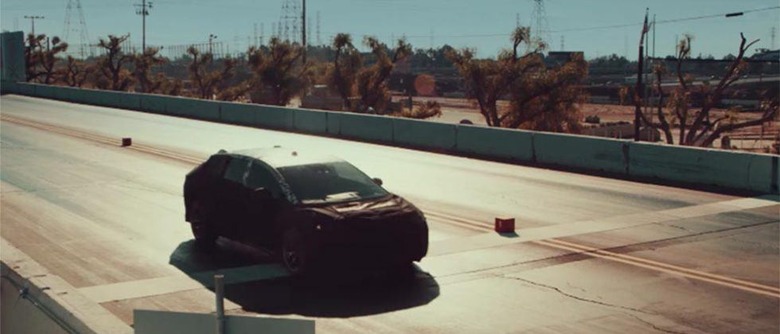 Ambitious electric car company Faraday Future has released a video showing a prototype it has created beating a few cars in a short race from 0 to 60MPH. The prototype, of which no details are provided, races the Tesla Model X P100D, the Ferrari 488 GTB, and the Bentley Bentayga. As you'd expect, considering it's Faraday Future's own video, its unnamed, shrouded prototype beats all three.
Faraday Future released the 45-second video on its YouTube account today with a description that reads: "We put our powertrain to the test..." against the three aforementioned car models. It also goes on to say, "Witness the 0-60 MPH verified results at #CES2017," teasing something we can expect to see early next month.
Faraday Future is positioned as a rival against Tesla, though one with far more claims and ambitions than actual products at this point. The video shows what Faraday Future describes as a 'prototype,' and as with vehicular prototypes, it is hidden behind materials that camouflage both its visual appearance and likely even its structural design.
Faraday is no stranger to releasing teaser videos, but this one takes the cake among them. It should be noted that we don't see any times specified in the above video (except for the indirect suggestion that the prototype's 0 to 60 is sub-2.90 seconds), only a finish line with one car crossing it before the other.
The video poses a bunch of questions, but if the description is anything to go by, we should have more details during CES 2017. Check out the timeline below for more Faraday news!