Fantastical 2 arrives on OS X with new look, more features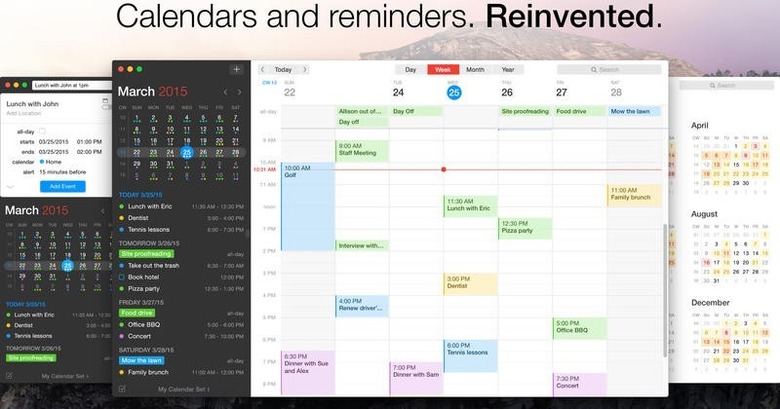 The stock Calendar for OS X isn't bad by any means, but there's one third party app that seems to have snatched the crown away from the bundled offering. Fantastical is, like any calendar app before it, handy for tracking your goings on in life. The difference with Fantastical is that it also makes a home in your menubar, and has a full pull-down widget. Even better, you can use real language for making appointments. To round things out handsomely, Fantastical 2 has arrived, and brings in a host of new features.
First, the entire look and feel is much more 'Yosemite', which should keep those who like things uniform happy.
When it comes to usability, Fantastical 2 outshines even the legacy Fantastical. In addition to recognizing plain-speak like "meet Carol for lunch on Tuesday at 1pm", it can now identify repeating meetings. So, if your office has a rolling meeting time, you can input something like "staff meeting second Friday of each month", and find your events repeat.
A new 'Today' widget is also available, and OS X Yosemite/iOS 8 things like Handoff make moving between the two platforms much simpler now. Tagging makes events easier to find, and reminders for events is like a mini to-do list for power users.
Fantastical isn't cheap — $39.99 in the App Store — but it's worth it. If you're in need of a powerful new Calendar app, either Fantastical app is hard to beat, and that aforementioned price is the sale price for Fantastical 2. After the sale, Fantastical 2 will run you $49.99. Existing users won't get any upgrade pricing, it seems, as Fantastical 2 is being treated as an entirely new app.
Source: App Store