Fallout Shelter comes to PC later this week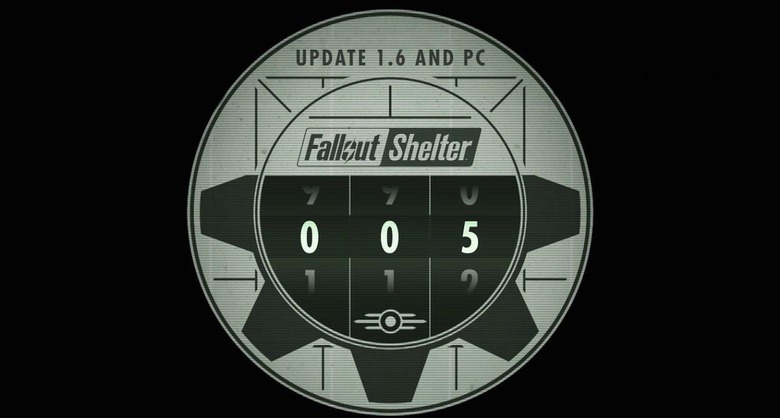 Everyone's favorite vault management mobile game, Fallout Shelter, is finally making the jump to PC sometime later this week. That means instead of crafting armor, gathering supplies, and maintaining vault dwellers by tapping on your smartphone's screen, you can actually play it with a keyboard and mouse — on the same machine you use to play Fallout 4, even!
An exact release date is somewhat unknown, as the official Fallout Twitter account posted on Friday night that the PC release, along with the version 1.6 update for iOS and Android, was five days away. That likely points to Wednesday or maybe Thursday, depending on the timezone.
It's not yet clear if the new PC version specifically will have any new features or improvements, but Bethesda has said that the 1.6 update will introduce new locations and enemy types, as well new characters for the vault, and the ability to send dwellers out on their own to complete quests.
Since its release following the Fallout 4 announcement at E3 2015, Fallout Shelter has turned into a huge success for developer Bethesda, and a pleasant surprise for gamers. A base-crafting and management game at its core, Fallout Shelter was originally intended as a simple Fallout 4 tie-in diversion as a way for the company to explore the mobile market. It has since grown into a deep, customizable game, with optional micro-transactions earning lots of money on the app stores.
It seems likely the PC version will also turn out to be a hit, especially with the ongoing popularity of Fallout 4 thanks its to continued DLC releases.
SOURCE Fallout/Twitter