Fallout 4 named DICE Awards' GOTY, Bethesda says 3 titles in progress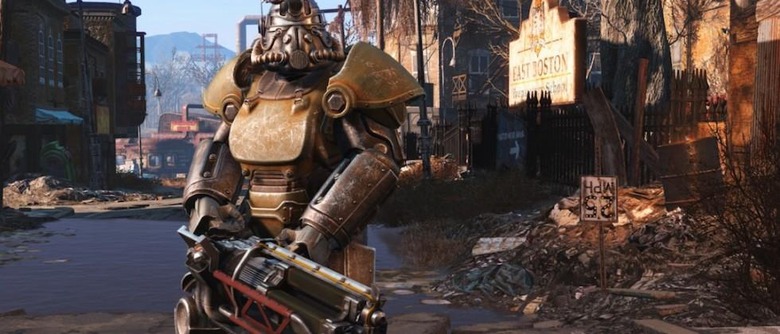 Developer Bethesda's mega-hit Fallout 4 was named as game of the year last night at the DICE Awards, which are widely recognized as equal to the Oscars of the gaming industry. The post-apocalyptic RPG was the recipient of several other honors that night, including being named role-playing game of the year and "outstanding achievement in game direction," while the accompanying mobile app, Fallout Shelter, was awarded with mobile game of the year.
Todd Howard, Fallout 4's creative director, took the stage for the game of the year award, noting that he "gets to work with some amazing people who inspire me every day," and adding "We cannot thank you enough for what this means to us, everybody at Bethesda and ZeniMax."
At the DICE Summit, the 3-day industry event that leads up to the awards show, Howard spoke on stage, revealing details about Fallout 4's development. The creative director also dropped a bombshell when asked about Bethesda Game Studios' plans for the future, revealing that they had three different, long-term projects currently in the works.
"We actually have three kinda longer-term projects we're doing that are all—we'll talk about them at a much future date, but they're different than anything we've done before, while also being a Bethesda-style game, big and crazy—in many ways different than things we've done before."
Now, all this would come after Bethesda finishes the just-announced DLC for Fallout 4, so don't expect solid details anytime soon. And don't think that by default one of these projects is just another Fallout sequel — Howard was asked if any of them rhymed with "Fallout 5," which he responded to with a laugh.
But what actually makes this news so surprising is that Bethesda (the developer, that is, not the publishing arm of Bethesda Softworks) has always worked on just one game at a time, namely switching off between the Elder Scrolls and Fallout series. If they were continuing this pattern, it would be easy to guess that their next project would be a follow-up to Skyrim, or Elder Scrolls VI.
There's certainly a chance that one of the three upcoming projects is an Elder Scrolls sequel, but that still leaves two more chances for completely new properties. Howard himself said the projects were something different than what they've done before, so eager Bethesda fans might be in for a few surprises — assuming they can survive the long wait.
SOURCE Kotaku