Fallout 4 high-res texture pack coming to PC - here's the hardware you'll need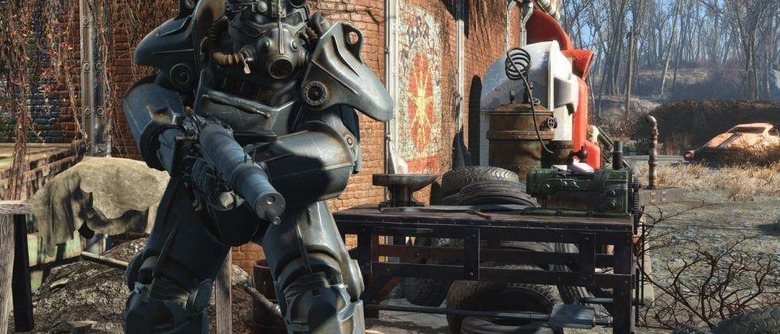 If Fallout 4's wasteland is looking a little low-res here in 2017, then an incoming patch from Bethesda might be just what the doctor ordered. The latest Fallout 4 patch is bringing high resolution textures to the PC version of the game, while also adding PlayStation 4 Pro support on the console side of things. It'll be rolling out next week too, so you don't have much longer to wait until it arrives.
Making Fallout 4 compatible with the PS4 Pro means that the game will support native 1440p resolution. On top of that, you'll notice enhanced draw distance for a variety of models, including NPCs, trees, grass, and objects. Finally, you'll be able to look forward to enhanced Godray effects which, while a small improvement, should do quite a bit to increase the ambiance of Fallout 4.
You're going to need a pretty serious rig if you want to use the high resolution textures pack on PC. For starters, the entire update weighs in at a whopping 58GB, which is huge considering that Fallout 4 is only a 30GB download on its own. Hard drive space isn't the only thing you need, as your hardware needs to be seriously up to snuff for those high resolution textures to even work. Here are the specs Bethesda says you'll need to "meet or exceed."
Windows 7/8/10 (64-bit OS required)

Intel Core i7-5820K or better

GTX 1080 8GB/AMD Radeon RX 490 8GB

8GB+ Ram
Even if your rig isn't quite as powerful as what's listed here, Bethesda still invites you to give the patch a spin – should the high resolution texture pack refuse to play nice with your PC, you can switch back to Fallout 4's original textures through the launch menu. Bethesda says that this is a "love letter" to the PC players that have supported its games over the years, and indeed, we saw the company release something similar for the PC version of Skyrim a few years back.
Are you going to give the high resolution texture pack a spin, or is your PC too weak to handle it? Let us know down in the comments section!
SOURCE: Bethesda