Fallout 4 cars come to Microsoft's Forza Motorsport 6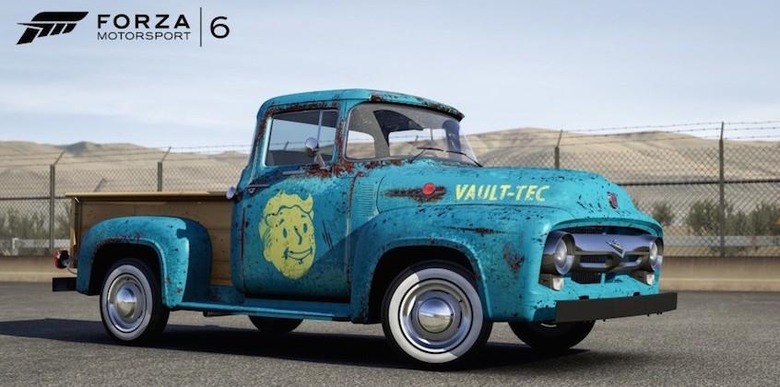 Now here's a bit of an unexpected cross-over: Xbox One gamers are getting treated to a special set of Fallout 4-themed cars as DLC for the recently released racing game Forza Motorsport 6. Feast your eyes on the vehicle above, a 1956 Ford F100 adorned with Vault-Tec logos and looking it's rolled right out of the post-nuclear apocalypse that makes up the world of Fallout 4. Forza 6 players can download that pickup truck starting today, and it's completely free.
Microsoft has released a little teaser video with the announcement, highlighting the special Ford F100 as "the next best thing to an atomic car: one that runs entirely on gasoline." While there's no ability to drive vehicles in Fallout 4, doing so in Forza 6 might be the next best thing.
But there's still more Fallout 4 car goodness on the way. Those who play the Xbox One version of Fallout 4 will exclusively get another car in early 2016: a custom-designed Chryslus Rocket 69, featuring a long and curvaceous body painted in red, with a retro-futuristic dome cockpit.
Fallout 4 will be released in the US on November 10th for the Xbox One, PlayStation 4, and PC. Xbox One players definitely seem to be getting treated to the most bonuses, as those who pre-ordered the latest Fallout are also getting a digital download copy of Fallout 3 for free.
SOURCE Xbox Wire