Fallout 4 'Automatron' DLC Showcased In Trailer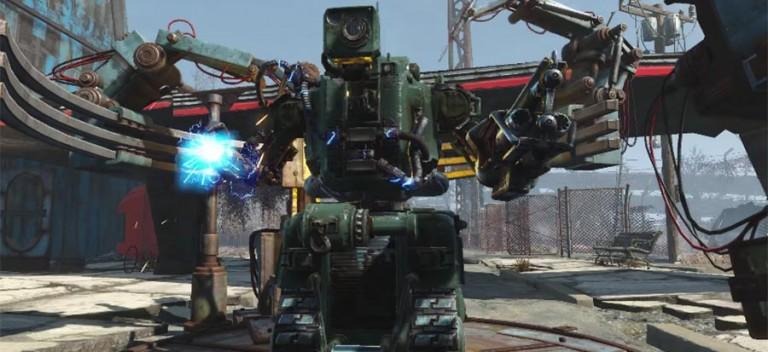 Bethesda has released the Automatron trailer for its upcoming Fallout 4 DLC, teasing gamers with what they can expect next week when the download goes live. We've already heard all the details on what the DLC entails — what we've been graced with today is a short trailer showing the Automatrons in action, including the creation process. These robot companions will include hundreds of mods.
The Automatron is a companion robot a gamer buildings using parts harvested from the evil robots released into Commonwealth. As shown in the trailer, gamers can select individual parts for most of the robot's components, including limbs and armor, weapons, paint jobs, voices, and more. The more parts you harvest, the more options you'll have.
Automatron is the first of three previously announced DLCs, and it'll be available for the PlayStation 4, Xbox One, and on Steam starting March 22. Gamers will shell out $10 for Automatron, double the cost of next month's "Wasteland Workshop" DLC. In that case, gamers will be granted an ability to capture live creatures and set traps, using them in battle or taming them.
Finally, May will bring "Far Harbor," the third of the announced DLCs. Far Harbor will cost $25, and will add a new environment in the form of an island off of Maine's coast. The island will hold weapons, armor, new quests, factions and residents, and more.
Those who plan to get all three DLCs can save some cash by picking up a season pass for $30 (the DLCs total $40 if bought individually). Additional downloadable content is planned for later this year, but hasn't yet been detailed.
SOURCE: YouTube