Fake Bad Piggies app infested 82,000 Google Chrome users with adware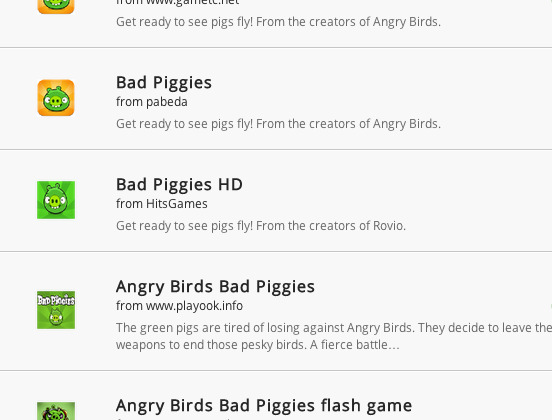 If you happened to get in on the Bad Piggies action recently, let's hope you didn't accidentally download and install the fake version in the Google Chrome Web Store. It turns out over 80,000 Chrome users are now being affected by the adware, which installs a plug-in that displays advertisements when you visit popular websites.
Not only does the plug-in introduce you to a handful of pesky advertisements, but once you give the app permission to "access your data on all websites", the plug-in can be used to steal personal information like email addresses and credit card information.
Security company Barracuda Networks discovered the fake app and have issued a statement and a report on the unfortunate situation. They suggest that those who are affected should uninstall the fake app immediately and change their passwords on other websites. Hopefully, the plug-in wasn't able to do a lot of damage, but who's to say what personal information it gained from the 82,000 users it affected.
The security company also discovered that some of the plug-ins are from www.playook.info, which is a maker of "free" flash games, but Barracuda Networks took a look at the site's Whois records and it revealed nothing. They say that hiding behind Whoisguard is considered a very suspicious thing for a business to do. So, if you're wanting to play Bad Piggies, be sure to go to the source to download and install it. Happy gaming!
[via Pocket Gamer]