FairPhone Hits Production Goal: Aims To "Put Social Values First"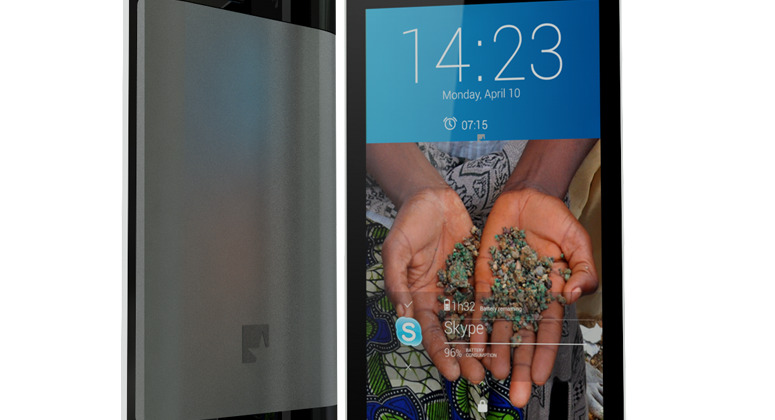 The device known as FairPhone has reached its initial funding goal, hereby making the device a reality and taking the aim of the program to a much more real place. This device aims to be manufactured and sold in as "fair" a way as possible, starting with conflict-free resources, an "open, flexible design", and what the group calls "transparent" production and pricing. This machine aims to go to market to take on top-tier smartphones like the Samsung GALAXY S 4, the iPhone 5, and the HTC One while it does so with a clear conscience.
While we've got no word at the moment on how this device's process compares to the smartphones made by their competitors, there are some details we're able to share on the surface. This smartphone works with scratch-resistant glass up front going by the name "Dragontail". This glass covers a 4.3-inch qHD (960 x 540) display, while under the hood is a Mediatek 6589 quad-core processor.
[aquote]'If you can't open it, you don't own it' – FairPhone Manifesto[/aquote]
This machine works with an 8 megapixel camera on its back, 1.3 megapixel camera on its front, and has 16GB of internal storage. Inside is Google's Android 4.2 Jelly Bean with a "special interface" as designed by the folks at Kwame Corporation. The team stresses that this device's Android build is "open", meaning it'll be easily hackable and customizable.
Also interesting is this phone's Dual SIM card capabilities, one slot able to work with a 2G card while the other works with 3G. There's a microSD card slot for storage expansion, and though you won't find NFC or wireless charging here, you will still be working with standard microUSB for charging and PC connections.
This device will be shipped with minimal packaging – without a charger or a USB cord. This means you'll need your own: which shouldn't be a problem because you already have a hundred of them lying around the house, right?
As the title of this post suggests, the project is now in pre-order with a "limited edition" of the phone up for right around $425 (€325) – and that is, of course, completely off-contract without obligations of any kind. The production target that's been hit this week is 5,000 units, and they're well on their way to moving forward from there.
First pre-orders will be shipped out by October – expect this machine to make some waves before and well after then. Supposing it's as humbly fine as it says it is – well played!