Facebook's Clear History promises to flush your digital footprints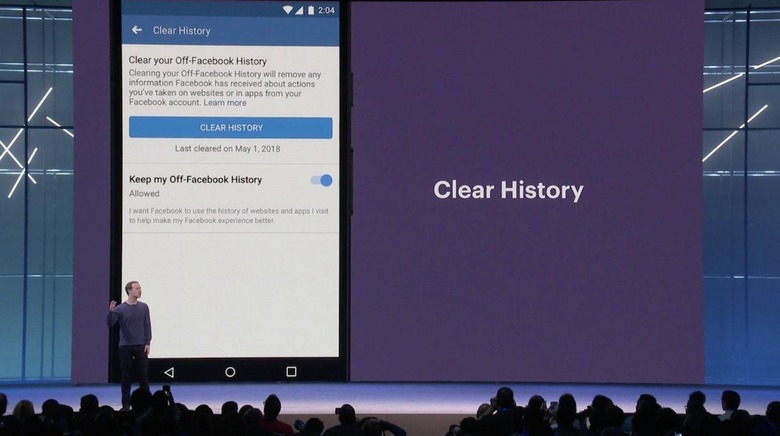 Facebook is making it easier to delete your digital footprint, with a new "Clear History" feature making the apps and websites it shares your data with more transparent. The latest in the social network's ongoing mea-culpa tour amid allegations that it does too little to protect user data, the new feature comes just ahead of F8 2018, its annual developer conference.
While Clear History sounds fairly straightforward on the face of it, it'll actually be more than just a tool to remove the list of services and sites you've engaged with. In fact, it'll be more like a hub for monitoring privacy and information sharing in an ongoing way. Facebook says it will show the websites and apps that pass it information when users engage with them, such as when they click Like or have Facebook Analytics installed.
That data will now come with a delete button. Users will be able to clear any identifying information gathered along the way, so that those sites and apps won't be associated with their Facebook account. There'll also be the option to turn it off altogether.
It's worth noting that this new feature won't remove Facebook's data analytics altogether. The company says it'll still be compiling aggregated data that it will share with sites and app-makers. However there'll be no account-associated information as part of that: instead, it'll be broader demographic data, such as whether more men or more women are engaging with their products or services.
Facebook's push to give both more transparency and more control comes amid one of the more challenging periods the site has faced. Founder and CEO Mark Zuckerberg responded to US Senate questioning for several days last month, for example, after allegations surfaced that third-party app developers had siphoned off personal information of hundreds of thousands of Facebook users, and then passed that to firms like Cambridge Analytica. In response to the criticism, Facebook has streamlined its data settings interface, promised to investigate any signs of information misuse, and committed to tougher penalties for any firms or organizations contravening those policies.
While Clear History is being previewed today, it's unlikely to be available for some time. Indeed, Facebook warns that it may take "a few months" to develop and release. "We'll work with privacy advocates, academics, policymakers and regulators to get their input on our approach," Erin Egan, VP and Chief Privacy Officer at the company said today, "including how we plan to remove identifying information and the rare cases where we need information for security purposes."
We're likely to hear more about privacy and data protection this week, as Facebook's developer conference begins in San Jose, CA. F8 2018 had been expected to focus on Facebook's current obsessions in virtual reality, but the ongoing controversies are believed to have forced significant schedule alterations this week.