Facebook yanks controversial Find Friends Nearby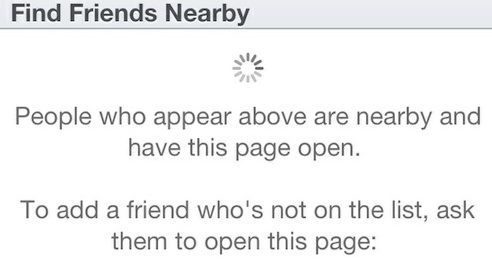 Facebook has quietly pulled its contentious Find Friends Nearby feature, though the social network refuses to confirm that the decision was in response to concerns about the swiftly-dubbed "stalker tool." Instead, the site claims that Find Friends Nearby was never intended for widespread public use anyway, and that taking it down is a regular part of its own internal testing.
Quietly launched on Sunday, Find Friends Nearby used GPS and other location tools to flag up which of your Facebook friends were physically proximate. These could be broken down into groups – such as work colleagues or old school friends – and included anyone who had the Find Friends Nearby page open on their mobile device.
However, it also raised the hackles of privacy watchdogs, with fears that it might open users up to inadvertent tracking. On the flip side, advertisers had apparently already begun salivating over the possibilities for specifically targeting commercial content to nearby Facebookers.
"This wasn't a formal release — this was just something that a few engineers were testing" a Facebook spokesperson told Wired. "With all tests, some get released as full products, others don't. Nothing more to say on this for now, but we'll communicate to everyone when there is something to say."