Facebook Viewpoints app will pay you for answering surveys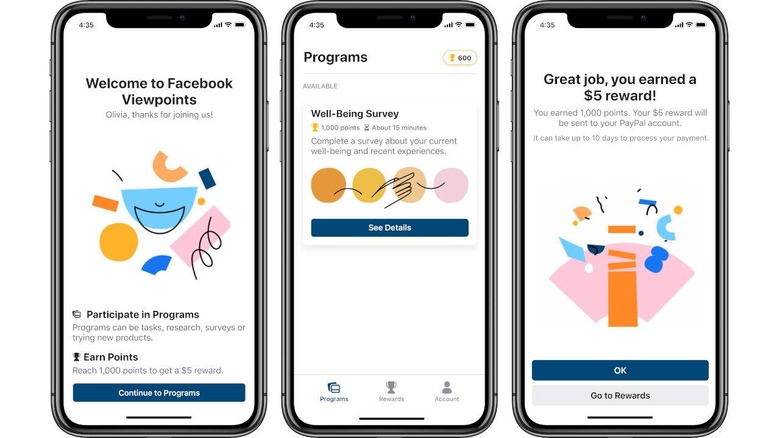 Facebook just can't help being itself, no matter how many times it promises to turn over a new leaf. If there were still any doubts about that, then this new Android and iOS app it just launched should be proof enough. On the surface, it seems like a harmless survey app that actually benefits responders by paying them for their time and effort but, as with anything Facebook, we are never aware of the implications until it's too late.
At least Facebook is being a bit more upfront this time. First, it publishes the app under its own name as Facebook Viewpoints. Second, it makes no qualms that the surveys are intended to improve its products, including Facebook itself, Instagram, WhatsApp, and even Oculus. It also admits that it will pay users, not for very survey but when they accumulate enough points to redeem as cash.
Facebook is also laying out its privacy policy for the app, detailing the information it will collect, including name, email address, country of residence, gender, and birth date. There is also "additional information" that includes location and some things Facebook may decide to add after the fact. It does promise not to sell the data to third parties or publish activities to Facebook feeds.
While Facebook seems to be doing things by the book this time, it's the underlying assumptions that will make privacy advocates queasy. Just a few months ago, Facebook was again put under the microscope for a "research" app that paid users in exchange for tracking their activities. The idea here is the same, just more overt, that Facebook is dangling the promise of money to get people to do what it wants them to.
For those interested in participating, Facebook Viewpoints' first survey is about digital well-being, at least as far as its apps are concerned. It seems that surveys will be thematic and scheduled, so don't expect an instant payout just by answering one survey.