Facebook uses Lollapalooza to test its live event streaming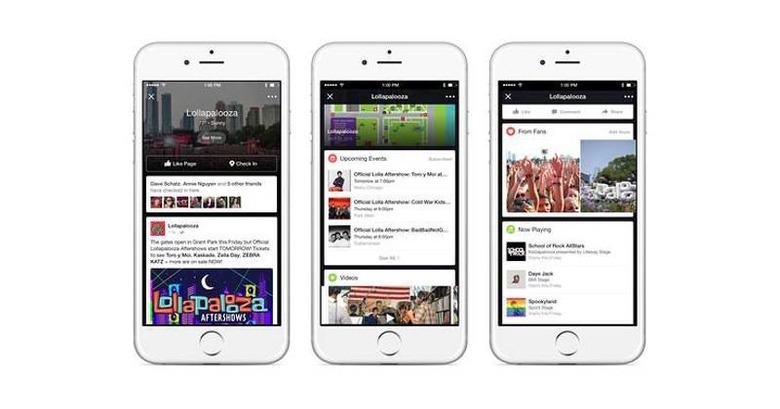 These days, it seems that the trend with social networks is no longer about what you're eating or how you're feeling right now. It's all about what's happening as it's happening, live and uncensored. With the likes of Meerkat and Twitter's Periscope getting all the attention, it's not surprising that Facebook wants in as well, but in its own way. And it just so happens that the annual Lollapalooza music festival in Chicago is here, making it a perfect opportunity for Facebook to test out its still unnamed live event streaming feature.
OK, Facebook's "feature" isn't exactly like Meerkat or Periscope, which are live video streaming services. It's more like Snapchat's "Our Story", a new feature which collates photos and posts from attendees of an event into a single stream, like seeing reports from multiple vantage points. It's still all posts and photos, except location-aware and grouped according to events.
In truth, this new live event stream is actually part of Facebook's Place Tips feature. Unveiled early this year, Place Tips is a way to discover more information about certain locations, such as your friends' photos or suggestions. In normal usage, the user actually has to be in that exact place to see what his or her friends did there.
In contrast, the Place Tips Lollapalooza does the reverse. It actually lets you see what your friends are doing or seeing while you yourself are miles away. Facebook, however, differentiates it from Snapchat's Our Story as the streams are filtered to include only your friends' activities and not complete strangers. It helps keep the noise down, but then it really only works if you have a friend actually attending the event.
The Lollapalooza live event stream is just a preliminary test and the feature will likely undergo several revisions before becoming a final product. Facebook hasn't revealed any timeline for that, however. Twitter, on the other hand, is rumored to launch its own version of the live event coverage, called Project Lightning, before the year is over.
SOURCE: Wall Street Journal