Facebook tweaks News Feed to adjust which articles you see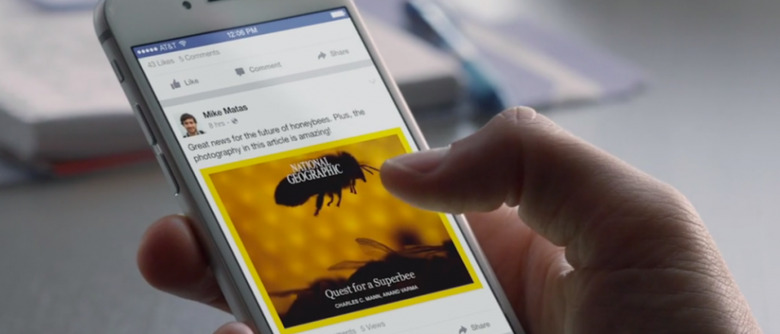 Facebook's making another change to your News Feed, and this one involves which articles you will see. The social network is adjusting the way it ranks articles, taking into account how often you and others spend reading/viewing them. This tweak is necessary because of how many people consume content they enjoy — by reading it, but not liking or commenting on the article on Facebook. As well, Facebook is also going to show a greater diversity of articles sources.
Facebook has decided to make these adjustments based on the data it has gathered through its Feed Quality Program. Says the company, it has learned that someone may like a certain type of article even if they don't "like" it or leave a comment. Facebook wants to make sure those individuals' don't suffer for their lack of participation, and so it is measuring how long they and others spend on an article — both through web links and Instant Articles.
On the flip side, Facebook will be taking note of instances where viewers visit an article, then immediately bounce back from it — meaning bad things for clickbait articles and other junk websites that lure viewers in with cheap gimmicks and teasing titles. Overall, though, Facebook says that most pages won't be seeing any significant changes from their current visitor levels. Some pages will benefit from the change, seeing an increase in traffic, but some others will see some "minor decreases."
For users, though, the change could mean a better selection of high-quality articles and less clickbait nonsense. As well, Facebook will be showing content from a wider range of publications, avoiding showing too many articles from the same site at once. The changes are rolling out now.
SOURCE: Facebook